Fred Armisen, Marc Maron, Eugene Mirman and more comics on their awkward high school moments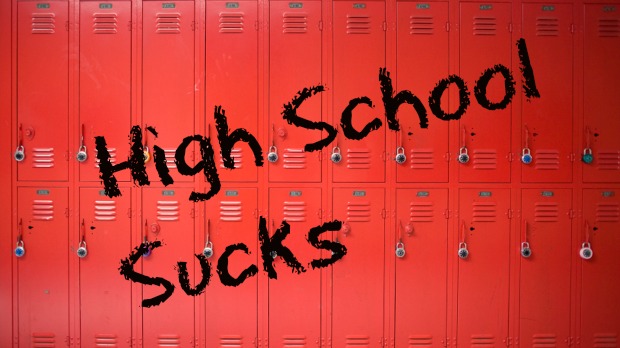 Posted by Melissa Locker on
From "Freaks and Geeks" to "Out There", from "Sixteen Candles" to "Mean Girls," from "Carrie" to "Bring It On," the traumas of high school are well documented in pop culture. Have you checked out our list of the Top 10 Most Awkward Moments in High School from movies and television? Spend five minutes with that list and you'll be 16 again, staring at your oily face and unruly hair in the mirror and just trying to will yourself not to do anything completely humiliating in front of the girl you like or in front of an entire classroom or during your driving test later that day. We've all been there and we all survived. (Looking for some tips to surviving high school? We have a list for that too.)
During SXSW 2013, we sat down with some of our favorite comedians including Portlandia's Fred Armisen, Marc Maron, Comedy Bang! Bang!'s Reggie Watts and "Out There's" Ryan Quincy to talk about their most awkward high school experiences and luckily, they were more than willing to share:
Fred Armisen:
High school was really good! I grew up in Long Island, in Valley Stream and it was really nice. We had physically a really nice school, good teachers. I had a good time with my friends. We were a bunch of weirdos. I was really into punk. We were close enough to New York City that we got to go to the City all the time. I had a really good time. There was one junior high school experience, where we were given an assignment to write about what we would do if it was the last day on Earth. Everyone was writing about how they would go visit their grandma and I was like, 'that is SO lame!" I don't know if I was trying to be funny or what, but I said that I would go to the main street in Valley Stream and smash all the windows and light the buildings on fire. When you're 14 or 15, that's how teenagers think! But they sent me to the school psychologist and it sucked because my mother got worried and I had to do all these tests. They were these written tests and they made me feel crazy because I was alone taking these tests while class was going on. So that was sort of traumatic, but in retrospect it was the first time I started getting like studio notes on the work I was doing.
Marc Maron:
"One awkward experience that I remember is when I was probably a senior in English class and we were writing poetry and it was an assignment and I had a job down by the university so I was very on the pulse of what intelligent grown-up people were doing. Being an artist and whatnot. I just remember that I wrote these poems about my love and my heart and virginity and stuff and we read them out loud. The teacher was like, 'Well, that's very good, Marc.' He was this funny little guy. But the class was like, 'What is he doing? Why is he talking about that?' But in retrospect I think it's pretty true to what I do and what I'm still doing."
Eddie Pepitone:
"Isn't all of high school awkward? My awkwardness went way beyond high school. It's so funny, I'm trying to think of the ultimate awkward experience and I am sure it has something to do with trying to ask women out. I was just …well now I'm married, thank god. But back then I was so terrified of rejection and I remember a couple times just blurting out, 'will you go out with me?' Just horrible and awkward."
Eugene Mirman:
What's an awkward high school experience? High school is all awkward, so I don't know. I have sad stories from elementary school, so maybe this will suffice. When I was in sixth grade I had a collie and it was a very pretty collie that I had for about six months, because it got hit by a car. We had to go to the vet while my parents were away, with this collie dying next to me, and it died. Then the next day at school this little girl came up to me and was like, "You're dog committed suicide because it didn't love you." …You asked if I could think of an awkward story and I thought that the amount that story is sad covers it. Like, it's the wrong gear, it's not awkward, but it's pretty horrifying, so in that sense, it's fine. It was sixth grade, but it was pretty traumatic, so it works."
Ryan Quincy:
"I was just telling someone about taking this girl to a dance and I worked at a Dairy Queen at the time and I was the only boy who worked there and I think the girls – They were kind of bully girls, mean girls – and I think they all kind of had a crush on me. They knew I was taking this girl to the dance. While I was in the dance, they took all the whipped cream and hot fudge and everything from the ice cream store and decorated my car with it and it just looked like a banana split on wheels. I walked out to that with my date."
Reggie Watts:
"I was in football and I used to have long tail, like a rattail with a little bit of ribbon tied into it. It was really thin. High school football used to have this no long hair policy because obviously you can get hurt. And it was literally just a few long hairs, but apparently it bothered the team so one day in the locker room a couple of guys grabbed me and then they cut off my tail. And it was so…I was so bummed. How was this legal? "
Want the latest news from Out There? Like them on Facebook and follow them on Twitter @IFCouthere.
"Out There" airs on IFC on Fridays at 10/9c