Five reasons to watch M. Night Shyamalan's "Signs" tonight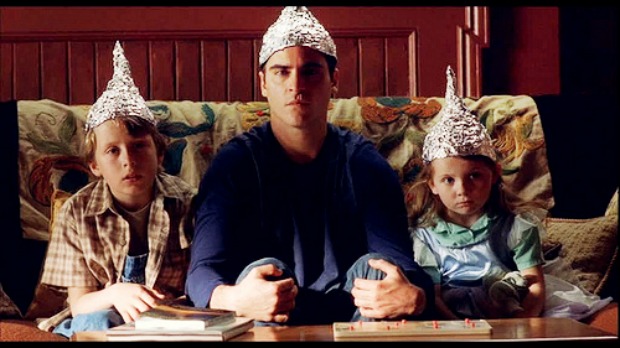 Posted by Melissa Locker on
Following the smash hit "The Sixth Sense" and the follow-up "Unbreakable," directorial upstart M. Night Shyamalan takes the audience for another paranormal outing. In "Signs," Shyamalan explores the eerie implications of a 500-foot crop circle that mysteriously appears on the Bucks County, PA farm of reverend Graham Hess. Hess and his family struggle to make sense of the sign in their backyard and to figure out how the possibility of an alien intelligence incorporates into their faith. Soon they realize, though, that the aliens are not just a cerebral exercise, but an up-close-and-personal hiding-in-the-cornfields encounter.
Here are five good reasons to watch "Signs" tonight at 10:15 p.m. ET/9:15 p.m. CT:
1. "The Sixth Sense"
M. Night Shyamalan's 1999 debut deserved the attention that it got and back in 2002 (when "Signs" came out) a new Shyamalan movie was something to look forward to, and while "Signs" may not be quite as groundbreaking or memorable as "The Sixth Sense," it still packs a powerful punch
2. Mel Gibson
Gibson plays Graham Hess a widowed preacher in need of a miracle to restore his lost faith upon the death of his wife. As we watch the events unfold through his eyes we get a terrifying portrait of a man struggling to survive, physically and emotionally.
3. Joaquin Phoenix
Playing Graham's brother Merrill, Phoenix steps up to imbue the role with subtle strength and emotion.
4. Abigail Breslin
Several years before her breakout role in "Little Miss Sunshine" Breslin showed her talent as an actress even as a little girl.
5. Aliens, man
Shyamalan increases the tension of your standard alien invasion thriller a hundred fold by limiting the action to on and around a small Pennsylvania farm. The micro-focus somehow makes the scope even broader.
Watch the trailer and then tune in tonight at 10:15 p.m. ET/9:15 p.m. CT:
Want the latest news from IFC? Like us on Facebook and follow us on Twitter@IFCtv
"Signs" airs tonight at at 10:15 PM ET; Thursday, Mar. 7 at 5:45 PM ET; Monday, Mar. 18 at 8:00 PM ET; Tuesday, Mar. 19 at 12:45 AM ET; Tuesday, Mar. 19 at 5:45 PM ET; Friday, Mar. 29 at 5:30 PM ET; Saturday, Mar. 30 at 2:00 AM ET