What to watch today on IFC: "Monty Python: Almost the Truth (The Lawyer's Edition)"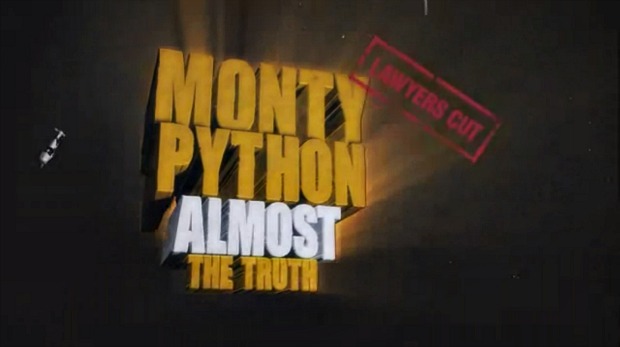 Posted by Melissa Locker on
…And now for something completely different.
Today we are showing the entire documentary "Monty Python: Almost the Truth (The Lawyer's Edition)" in back-to-back installments beginning at 6 a.m. ET and running all day. In the film, the legendary British comedy troupe Monty Python gather together to set the record straight about the Pythons and tell the entire tale from start to finish. The Monty Python troupe includes John Cleese, Terry Gilliam, Eric Idle, Terry Jones, Michael Palin and Graham Chapman. This six-part series features interviews with all the surviving Python members, along with archive representation for the late Graham Chapman. The Pythons tell their life story and reveal deeper truths alongside the more tried and tested Python history lessons. The documentary also features comedians and contemporaries including: Jimmy Fallon, Lorne Michaels, Hugh Hefner, Eddie Izzard, Olivia Harrison, Steven Merchant, Dan Aykroyd, Tim Roth and Seth Green, among many others.
Here's the schedule of events now all you have to do is tune in :
6 a.m. ET and 1:30 p.m. ET: "Not-So-Exciting Beginnings"
The birth of Monty Python. Join members as they tell the tale of how their lives and careers began Post-WWII to the culmination of Monty Python's Flying Circus
7:15 a.m. ET and 2:45 p.m. ET: "The Much Funnier Second Episode"
Catch up with The Pythons as they remember Monty Python's Flying Circus' early struggles turned extreme successes with sketches influencing generations to come.
8:30 a.m. ET and 4 p.m. ET: "And Now The Sordid Personal Bits"
Join Monty Python members as they discuss BBC censorship, unwanted celebrity status, member Graham Chapman, Python controversy and Cleese's departure.
9:45 a.m. ET: "The Ultimate Holy Grail Episode"
Comedic team Monty Python document arriving in the U.S. and leaving TV to dive headfirst into film and the ups and downs with their project Monty Python and the Holy Grail. Interviews with Jimmy Fallon, Seth Green, Russell Brand, and Bruce Dickinson
11 a.m. ET: "Lust for Glory"
On the heels of 'Holy Grail' and its success, the Python Gang reflects on their next misinterpreted and controversially banned film, The Life of Brian. Interviews with Terry Gilliam, John Cleese, Michael Palin, Terry Jones, and Eric Idle.
12:15 p.m. ET: "Finally! The Last Episode Ever… for Now"
The Gang recalls their last movie, "The Meaning of Life," and its relevance to Graham Chapman's memorial service. Comedians and celebrities discuss Python's influence. Interviews with Eddie Izzard, Dan Aykroyd, Jimmy Fallon, Steve Merchant.
"This is the documentary I always hoped would be made – something so complete and so faithful to the truth that I don't need to watch it," said Terry Jones.
Want the latest news from IFC? Like us on Facebook and follow us on Twitter@IFCtv