Exclusive: John Romita Jr. reveals his "Kick-Ass 2" costumed appearance with Mark Millar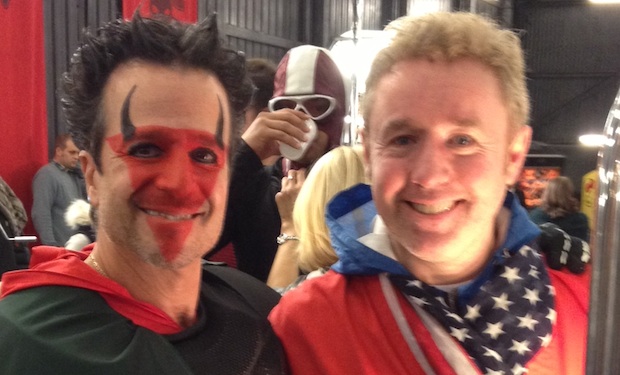 Posted by Terri Schwartz on
IFC: I know you directed an animated sequence in the first "Kick-Ass" movie. Did you do anything like that for the second one, or were you involved behind the scenes in any way?
JRJR: No, they didn't go through with anything to the effect of animation. The one move they made towards me to do some work was to do a large portray of Chris Plasse in costume. They asked me with I think like a week to do it and then they chuckled about it being late when they had another painter do it. Some guy did an enormously amazing just gigantic painting of Chris in his costume, near life-size, and he got it done in a week. The painting is full paints. It's amazing. Talked to Tarquin, one of the producers, and he said, "Bet you couldn't have gotten that done on time, could you Romita?" [laughs] I couldn't have! No way I could have gotten it done. So they asked me to do the portrait and then they just had somebody else do it who was out in London.
IFC: You and Mark were working on "Kick-Ass 2" the comic not long after "Kick-Ass" the movie came out, so did you two have a collaborative process with Matthew Vaughn and Jeff Wadlow as they moved forward with the second movie?
JRJR: Yes. There was some with Mark and Jeff and Matthew with script, but it was not so much telling Mark what to do. They would ask what Mark had in mind and go from there. It was very respectful in that way. They didn't want to influence Mark in any way. The same thing with me. They just let it flow, and then asked for a brush of what was going on. Both of them — Matthew and Jeff, the director — both were respectful that way. They didn't influence Mark in any way.
Mind you, they did give show us what they had in mind when they were filming as opposed to just following mlockstep with what we did. But there are so many moments where you can see exactly what we did in the books that could come out on screen. It's fantastic.
IFC: This is a dark property, both the comic and the movie, so what do you think makes them both resonate with audiences the way they have?
JRJR: The same thing that the first one did and, I've always said this, that's the same reason why Spider-Man was popular, because it gives people a base to identify with. There's nothing about this — the first one and particularly the second one — there's nothing about this that stretches the boundaries. Nobody does anything supernatural, so there's still a basis of reality. In the first one, the only thing that was furthest from the truth was the jetpack and that was the only thing that stretched the imagination a little bit, and even that's conceivable. But I think that what Mark and I wanted most of all as it proceeded was to keep it within its strengths, and that's to keep the kids what they are and make a natural progression.
The natural progression is that this "craze," it expands, and the bad guy wants to be a worse guy, he wants more. That's not too much of a stretch. We identified what the strength was, and then we went further with it, and Mark followed through beautifully on it. I think the justification for the bad guy is he got a little twisted. He was a little twisted to begin with and got a little bit more twisted. It's suggested that you stick with your strengths and you don't veer from it. Much like "Spider-Man," what it's strength is is that this kid becomes a superhero and it never veered from it. Now, with "Kick-Ass," it's the same thing, and the reader or the viewers can identify with what it is, and it's so strong in that light.