Exclusive: John Romita Jr. reveals his "Kick-Ass 2" costumed appearance with Mark Millar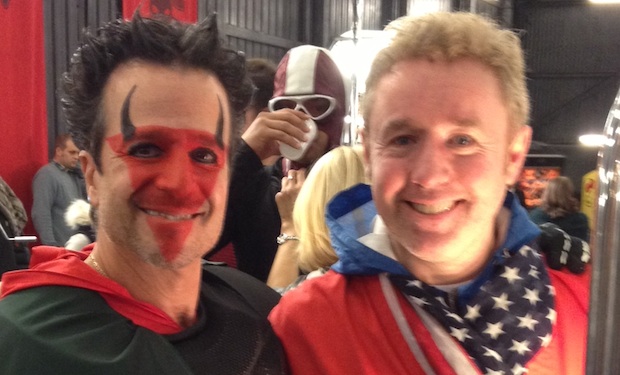 Posted by Terri Schwartz on
The recently-released trailer for "Kick-Ass 2" has given fans their first taste of what's in store when Kick-Ass, Hit-Girl and Red Mist The Motherfucker storm back into theaters on August 16. This adventure, based on the story written by Mark Millar and drawn by John Romita Jr., is an adaptation of the comics of the same name and takes the "Kick-Ass" story to a whole new level.
IFC recently had the chance to talk to Romita about his visit to the "Kick-Ass 2" set, which was a bit more than just a cursory visit. As can be seen in the above photo, he ended up donning a costume of his own, and revealed to IFC the epic fight scene between himself and Millar that never actually came to be.
IFC: I've been told from someone who was on set with you at the same time that I need to ask you about your superhero costume.
John Romita Jr.: [laughs] Oh my god, it's out! I've been outed. My wife has all those photographs. In the first film, they wanted Mark and I to make an appearance, a cameo. We both felt uncomfortable with cameos, and we just thought we would stand around in the background and each of us was standing around as extras. They wanted to do the same thing with the second film. They wanted us to be in some scenes, and I said, "No, I'm not going to do cameos. Just throw me in somewhere." And Mark and I were supposed to, according to the person, were actually supposed to have some close-ups of us in the battle scenes. So even though we weren't going to say anything, we weren't going to utter any words, we were going to be in the big fight scene, so they had both of us costumed.
It ended up Mark couldn't stick around for the close-ups because he had meetings with Fox, believe it or not. That day he had like five meetings with five different studio heads and was too busy, so our close-ups were gone. The producer, Tarquin Pack, and I had this wiseass relationship going. He loves to break chops. He asked them to put me in some ridiculous costume but it ended up being all in good fun. They had me in this red, skintight bodysuit and they threw everything you could imagine on top of it. Shoulder pads, knee pads; it looks like something from the future and the past all blown up together into one, and then they put makeup on my face and they put gel in my hair. It was hysterical.
IFC: So you'll be easy to spot?
JRJR: Here's the problem: They put us in the fight scene and I was supposed to beat the snot out of Mark in the battle scene, and then they were going to do close-ups of us fighting, and Mark couldn't make it. So we're in the fight scene, but it's really difficult to see us. The director said when we do the third one, he said, "I'll get you all the close-up." The photos of me in costume are pretty funny. They're cringe-worthy, but since I have no pride, I don't mind people finding out about them.
IFC: The trailer was just released, and you wouldn't be alone in having a less than flattering costume — but Jim Carrey looks awesome.
JRJR: That's an interesting point of conversation, because way back when I was just designing the characters, I was designing the costumes to try and look cool. And the words from Mark and from Matthew Vaughn at that time were, "Remember, these are supposed to be amateurs, make sure you take it in that light." The effort to make it that way consistently gets people to cringe at some of the costumes. It's supposed to be almost socially inept people to begin with, and they shouldn't have any good taste in costumes. They're amateurs at best, and I think that goes without saying, and everyone thinks that. No one is supposed to look glamorous. They're supposed to look stupid. Well Hit-Girl, she looks great, and so does Aaron in the Kick-ass costume. Every time I'd design a costume I'd have to be told, "Remember, they're amateurs."
IFC: Was it hard to have to scale it back, or was it more fun to get to do it that way?
JRJR: Oh no, I learned my lesson after the first 10 times. [laughs] Honestly, no, I had to remember that the first time and it just sort of stuck with me, so I don't really feel uncomfortable in the costume. Oddly enough, they put Mark in a red, white and blue flag costume, and I was the bad guy. Mark was the good guy, I was the bad guy.
IFC: So you were a member of The Motherfucker's Toxic Mega-cunts?
JRJR: That's right. I was a bad guy, and boy I should have taken out all my angst on Mark that day, but I wasn't allowed to really hit him.
IFC: Now you're going to need to draw yourself into "Kick-Ass 3."
JRJR: [laughs] No, I can't do that. My nose is too broken. It's been broken too many times, I can't draw myself. I have trouble drawing a self-portrait, I have trouble drawing a portrait of anybody that I care about because then I have to flatter them. I will do one of Mark; I'll try to get Mark in the book. I will try, I hadn't thought about that. He will probably laugh.