"Evil Dead" red-band clip goes heavy on the gore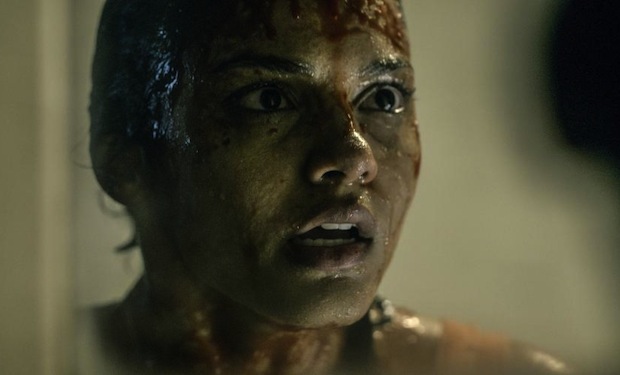 Posted by Terri Schwartz on
If you're not a fan of gore, violence, eye balls, needles or blood, stay far, far away from the latest clip from "Evil Dead." We're not joking.
By now, most people who have been paying attention to "Evil Dead" have seen the terrifying shot of Jessica Lucas cutting open her own cheek that has repeatedly played in the movie's trailer. Now you get to see that scene in its bloody context, watching Lucas go full-on demon on poor unsuspecting Lou Taylor Pucci.
Prepare to start cringing when Pucci slips on Lucas' cheek skin and not stop through her attack on him. Everything we've heard about "Evil Dead" says the film is not for the faint of heart, and this clip proves it. The new movie will play up the violence in a less campy way than the original movie, and that's something producers Sam Raimi and Bruce Campbell have been very proud of while they've been promoting the reboot.
The official synopsis for "Evil Dead" reads, "In the much anticipated remake of the 1981 cult-hit horror film, five twenty-something friends become holed up in a remote cabin. When they discover a Book of the Dead, they unwittingly summon up dormant demons living in the nearby woods, which possess the youngsters in succession until only one is left intact to fight for survival." It stars Jane Levy, Shiloh Fernandez, Pucci, Lucas and Elizabeth Blackmore, and is directed by Fede Alvarez. "Evil Dead" is due out in theaters on April 5.
In addition to the upcoming "Evil Dead," release, Raimi has confirmed he's also working on "Army of Darkness 2."
What do you think of this gory new clip? Tell us in the comments section below or on Facebook and Twitter.