Jena Malone and Jeffrey Wright get "Catching Fire" Victory Portraits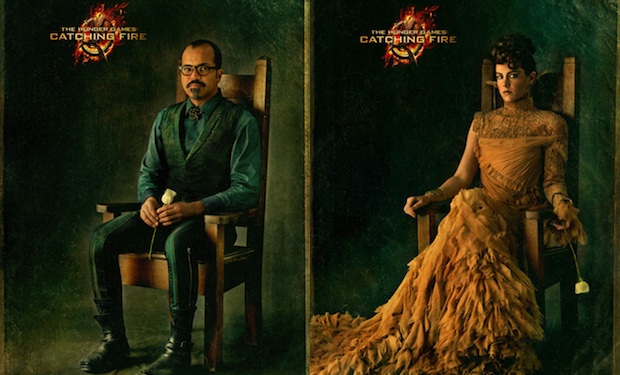 Posted by Terri Schwartz on
Another day, another batch of "The Hunger Games: Catching Fire" Victory Portraits. The latest two feature Jeffrey Wright as Quarter Quell contestant Beetee, and Jena Malone's contestant Johanna Mason. This is the first we've seen of either actor in character, and both look stunning and perfect for their roles.
Jennifer Lawrence, Woody Harrelson, Lenny Kravitz, Stanley Tucci and Elizabeth Banks have already received Victory Portraits. Expect stars like Philip Seymour Hoffman, Josh Hutcherson and Liam Hemsworth to get their soon as well.
"Catching Fire" brings back stars Lawrence, Josh Hutcherson, Liam Hemsworth, Woody Harrelson, Elizabeth Banks, Donald Sutherland and Willow Shields. It also has a whole new set of actors coming on board as well. As a quick recap, here's everyone new who's been cast in "Catching Fire" so far: Philip Seymour Hoffman as Plutarch Heavensbee, Jena Malone as Johanna Mason, Amanda Plummer as Wiress, Lynn Cohen as Mags, Meta Golding as Enobaria, Bruno Gunn as Brutus, Alan Ritchson as Gloss, Jeffrey Wright as Beetee and Patrick St. Esprit as Romulus Thread. The movie comes out on November 21.
Here's the movie's official synopsis:
"The Hunger Games: Catching Fire" begins as Katniss Everdeen has returned home safe after winning the 74th Annual Hunger Games along with fellow tribute Peeta Mellark. Winning means that they must turn around and leave their family and close friends, embarking on a "Victor's Tour" of the districts. Along the way Katniss senses that a rebellion is simmering, but the Capitol is still very much in control as President Snow prepares the 75th Annual Hunger Games (The Quarter Quell) — a competition that could change Panem forever.
What do you think of the Capitol Portraits? Tell us in the comments section below or on Facebook and Twitter.