Bomb Squad: Why Did "Burt Wonderstone" Tank?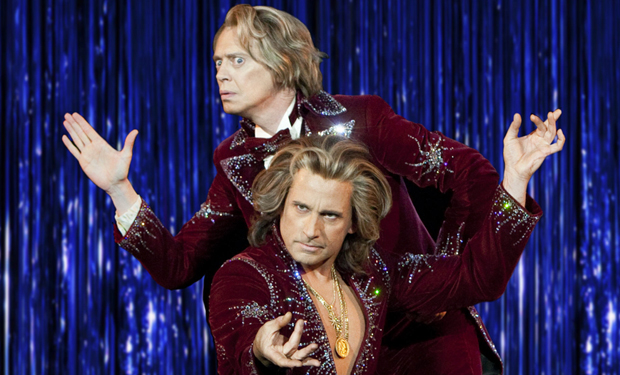 Posted by Tim Grierson on
Welcome to "Bomb Squad," a recurring column that takes a closer look at a movie that tanked at the box office and tries to figure out what happened.
On paper, "The Incredible Burt Wonderstone" seemed to be a surefire hit. You've got Steve Carell, Jim Carrey back in super-goofy mode, and a zany premise about Vegas magicians. That should have been enough elements to bring out comedy fans, but "Burt Wonderstone" has been a disaster, earning only about $17 million after two weekends. In the immortal words of Mike LaFontaine from "A Mighty Wind," wha happened? Let's take a look at some possible theories that could explain this commercial train wreck and then come up with our verdict…
Theory No. 1: People aren't sold on Steve Carell as a leading man.
Carell has built up a following thanks to his years as the lead of the sitcom "The Office." But, as has been noted, transitioning to a full-time movie star can be difficult, even though Carell had enjoyed success prior to leaving "The Office" with "The 40 Year Old Virgin," "Evan Almighty" and "Get Smart." "Burt Wonderstone" is his first really big studio comedy since exiting the show — 2011's "Crazy, Stupid, Love." was more of an adult comedy-drama — but it's hard to imagine that the world has suddenly decided they're uninterested in him. (Although, to be fair, last summer's indie "Searching for a Friend at the End of the World," another adult comedy-drama, was a bit of a commercial disappointment as well.) If people want to point fingers for "Burt Wonderstone's" failure, they should probably look elsewhere.

Theory No. 2: This is a Will Ferrell movie, but without Will Ferrell.
As I mentioned in my own review, "Burt Wonderstone" is the sort of film Ferrell has made his trademark: It's the story of an overbearing buffoon who has to learn to grow up after he loses all his money and success. (It might as well have been called "Las Vegas Nights: The Ballad of Burt Wonderstone.") But Carell isn't Ferrell. Where Ferrell's characters are supersized, Carell's tend to be precisely controlled and subtle. (Even when Carell plays bozos, like Maxwell Smart in "Get Smart" and Brick Tamland in "Anchorman," he gets laughs by being deadpan, not over-the-top.) Wonderstone's large ego needs a large personality — for all of Carell's talent, that's not his strong suit.
Theory No. 3: Folks don't find magicians funny.
There are actually two different styles of magic being mocked in "Burt Wonderstone." On one side, you've got the cheesy, tame, glitzy Vegas magicians being represented by Carell and Steve Buscemi. On the other, you've got the edgy, shocking street magicians, such as David Blaine and Criss Angel, personified by Carrey's whacked-out-of-his-mind Steve Gray. These are, in theory, prime comedic targets — self-absorbed and self-serious types always are — but were audiences really craving a sendup of magicians? Neither of the two magic genres being spoofed in "Burt Wonderstone" are exactly high-profile in today's culture. Angel and Blaine aren't as popular/infamous as they were a few years ago, and Wonderstone himself doesn't exactly recall any specific Vegas magician. So it's not as if this world was such a juicy target that it was just begging to be lampooned. By comparison, Ferrell has had hits by parodying genres or worlds that are very much in the public consciousness: the buddy-cop movie with "The Other Guys" and NASCAR with "Talladega Nights." It's difficult to place "Burt Wonderstone's" disappointing grosses entirely at the feet of its setting, but you do have to wonder if some people stayed away simply because they didn't connect with the subject matter or long to see it satirized.

Theory No. 4: It didn't have the one killer bit you could sell in an ad.
For as much as people complain about studios ruining a movie's best jokes by putting them in the trailers and commercials, there's a reason why it keeps happening: It works. If audiences laugh at an ad for a comedy, they're a lot more likely to see the movie. That's just human nature. And with that in mind, "Burt Wonderstone" was hurt because it simply didn't have that one terrifically funny scene that you could show over and over again in commercials to convince audiences to give the movie a try. Now look at "Identity Thief," which got horrible reviews but has so far grossed more than $127 million. That Melissa McCarthy vehicle was able to clearly sell what it was in its ads: a broad comedy with lots and lots of slapstick. The advertising for "Burt Wonderstone" wasn't as clear, which made it a tougher proposition for audiences.
The Verdict
As is often the case, the commercial failure of "The Incredible Burt Wonderstone" seems like a combination of factors rather than one clear problem. But rather than doubting Carell's star wattage — or Carrey's, for that matter — it seems more likely that a muddled campaign to advertise a movie whose high-concept premise wasn't actually as can't-miss as it appeared is more to blame. And in those cases, star power may not be enough to overcome the obstacles. It's not magic.

You can follow Tim Grierson on Twitter.