Bomb Squad: Why Did "Admission" Tank?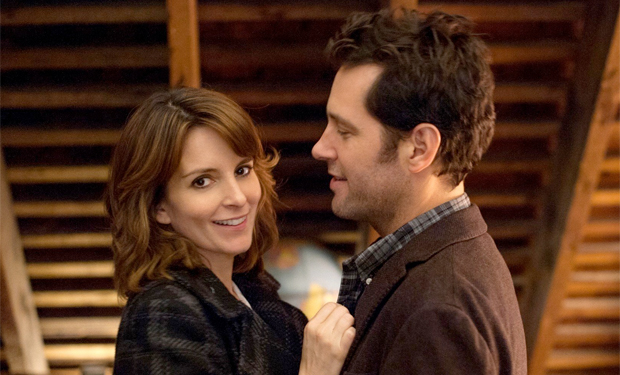 Posted by Tim Grierson on
Welcome to "Bomb Squad," a recurring column that takes a closer look at a movie that tanked at the box office and tries to figure out what happened.
Most everybody likes Tina Fey. Most everybody likes Paul Rudd. Put 'em together in a comedy and you should have some success. Unfortunately, their first onscreen pairing turned out to be "Admission," which barely managed $6 million in its first weekend. No one was expecting the film to launch a franchise, but, still, why didn't audiences turn out? Let's take a look at some possible theories and then come up with our verdict…
Theory No. 1: You know, Tina Fey really isn't that big of a movie star.
Fey has had commercial success in movies like "Mean Girls" (which she adapted from a book by Rosalind Wiseman) and "Date Night," but it's just as likely that people went to those movies because of her costars: Lindsay Lohan and Steve Carell, respectively. Her biggest hit where she was the clear star was "Baby Mama," which grossed about $60 million, a solid but by no means stellar showing. There's no questioning Fey's talent: She's a bestselling writer thanks to her memoir "Bossypants" and a multi-Emmy winner from her work on "Saturday Night Live" and "30 Rock." But do enough people want to see a movie just because she's in it? That's still a little uncertain. (Honestly, if she ever wanted to do a Sarah Palin movie, that might be something a lot of folks would pay good money to see.)
Theory No. 2: You know, Paul Rudd really isn't that big of a movie star.
For most of his film career, Rudd has been the buddy, the sidekick, or part of an ensemble. It's only recently that he's become an above-the-title star, such as on "Dinner for Schmucks," "How Do You Know," "Wanderlust" and "This Is 40." His biggest hit in that group is "Dinner for Schmucks," which brought in about $73 million, but, like with Fey, that turnout was as much about his costar, Steve Carell, as it was about him. Like a great utility player in baseball or an invaluable sixth man in basketball, Rudd is somebody you want on your comedy team, but he may not be enough of a draw simply on his own.
Theory No. 3: Nobody knew what "Admission" was even about.
Focus Features was always going to have a difficult task in advertising "Admission." Less a romantic comedy than a comedy-drama about a woman (Fey) who gets a second chance to be a mother to the long-lost son (Nat Wolff) she gave up for adoption at birth, the film didn't have a clear high-concept hook. But the TV commercials were especially problematic, selling "Admission" as a fish-out-of-water comedy — it's Tina Fey with a cow! — and resorting to having the two stars actually sit across from each other in 30-second spots and try to explain what the movie was about. (And the poster was even worse: Clearly, Focus was hoping date-night crowds would flock if the marketing went as generic rom-com as possible.) An emotionally nuanced movie needs a sharp, sophisticated campaign; "Admission" never had a chance.
Theory No. 4: It looked like a rental.
Romantic comedies — or, as in the case of "Admission," romantic comedy-dramas — become big hits thanks to star power and word-of-mouth. Without those, audiences might choose to skip the movie's theatrical run and catch up with it on DVD or cable. (It's not as if, say, "The Lucky One" or "Safe Haven" is so visually stunning that you have to see it in a theater.) And whether it was the lukewarm reviews or the generally lackluster buzz around the film, "Admission" simply seemed imminently skippable.
The Verdict
Looks like it's "all of the above." Although I actually liked the film, "Admission" is the sort of under-the-radar commercial prospect that needs some kind of selling point to really fire up an audience: great reviews, a big star, something. That never happened here. Not all bombs are created equal, of course, and since "Admission" had a pretty small budget — supposedly around $13 million — its weak box office showing is hardly cause for massive embarrassment. But it is a reminder that just because lots of people love Tina Fey and Paul Rudd, that doesn't mean that alone will be enough to guarantee a hit.
You can follow Tim Grierson on Twitter.