"After Earth" trailer shows Will and Jaden Smith's struggle to survive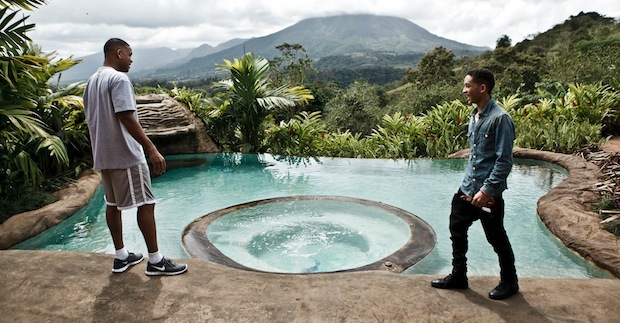 Posted by Terri Schwartz on
A new trailer for M. Night Shyamalan's "After Earth" has arrived. Unlike its predecessor, this new look at the movie offers up some exciting context for the sci-fi adventure.
What is up with Will and Jaden Smith's strange accent in this movie? If it's to show that humans have in fact evolved in the 1000 years since they left Earth, then that's awesome. A complaint many have with futuristic science fiction movies is that humans look and act the same no matter how much time has passed, so this is a nice touch if that's indeed how it was intended. Beyond that, "After Earth" seems to have an intriguing premise.
The official plot synopsis for "After Earth" was released at Comic-Con. Here it is in its entirety:
"In 'After Earth,' one thousand years after cataclysmic events forced humanity's escape from Earth, Nova Prime has become mankind's new home. Legendary General Cypher Raige (played by Will Smith) returns from an extended tour of duty to his estranged family, ready to be a father to his 13-year-old son, Kitai (played by Jaden Smith). When an asteroid storm damages Cypher and Kitai's craft, they crash-land on a now unfamiliar and dangerous Earth. As his father lies dying in the cockpit, Kitai must trek across the hostile terrain to recover their rescue beacon. His whole life, Kitai has wanted nothing more than to be a soldier like his father. Today, he gets his chance."
"After Earth" also stars Isabelle Fuhrman, Zoe Kravitz, Sophie Okonedo and Glenn Morshower. It's due out on June 7.
What did you think of this "After Earth" trailer? Tell us in the comments section below or on Facebook and Twitter.