"Admission" screenwriter talks higher education, comedy, and writing for Tina Fey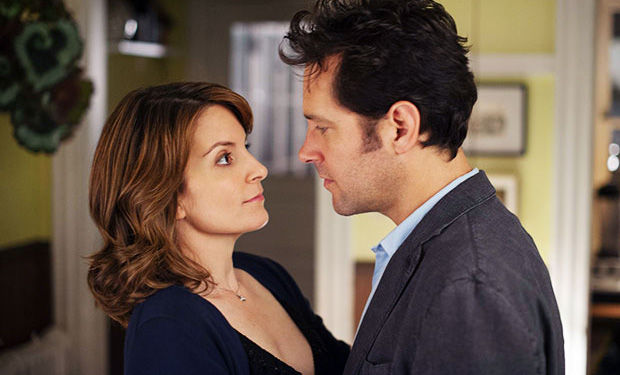 Posted by Rick Marshall on
In "Admission," the new film from "About A Boy" director Paul Weitz, Tina Fey plays an admissions officer for Princeton University who has a crisis of faith when she's introduced to an alternative-school prodigy who might be the son she gave up for adoption years ago.
Based on a novel by a former reader of Princeton candidates' applications, "Admission" is a lighthearted, funny take on parenting and the pursuit of life, love, and higher education, thanks to a script by Karen Croner. Fey is joined in the cast by Paul Rudd, who plays the idealistic head of an alternative school she visits during one of her recruitment drives.
IFC spoke with Croner about "Admission," writing for Fey, and what the film really says about the importance of where you go to school.
IFC: Before we even get started, it's worth pointing out that I went to a relatively unremarkable state school for college, so there was a lot about this movie that I found surprising – and fascinating – about the admission process.
KAREN CRONER: [Laughs] Yeah, I'm a public-school girl, too. I went to a big public high school in Los Angeles and then applied to the University of California system, knowing that whichever school I got into is the one I would attend. So it's all brand-new to me, this process. But we were applying to middle schools a while ago for my son, and it's a really fascinating rabbit-hole to go down.
IFC: It certainly seems that way, but I'm curious how much of the book made it into the movie. How similar are they? I got the impression that the book wasn't really a romantic comedy…
CRONER: Well, one thing that usually happens in Hollywood is, whenever a book is optioned, the author is then completely shut out of the process. I absolutely abhor that, and with everything I've done, I've tried to keep the author as involved as possible. So I'm very good friends with the author [of Admission]. That being said, though, the book was given to me and described as a very sad book about an admissions officer who has a breakdown. I had just gotten through getting my son into middle school and thought, "Hey, that doesn't sound sad – that sounds funny! I want to see that character suffer like I did!" [Laughs] So maybe I came at it from a slightly unhealthy position.
IFC: Beyond the general tone of the story, what other changes occurred in the adaptation process?
CRONER: A lot of the book is very internal. Also, the main revelation of the book – which our movie starts with – happens at the end of the book. In terms of the plot and the tone, though, it's a pretty major departure. But it's still really true to the theme of a woman who is barreling ahead at breakneck speed with blinders on, and having the guts to look up and go, "I'm doing the wrong thing and I have to change." So in that way, it's very true to the book. The woman who wrote the book was a reader for Princeton's applications, so she was able to take us behind those closed doors and show us what really happens [in the admission process]. It was a great inspiration for me to interview admissions officers and try and understand who would do this job and what shapes their decisions. They're an absolutely fascinating group.
IFC: And that comes across in the film, too – but it's clearly not the only theme of the movie. Beyond the admissions process, what else did you set out to explore with the story? It feels like there's a lot of interesting points in there about parenting, the whole "nature vs. nurture" relationship, and what type of people hold all of this power to change students' futures….
CRONER: It's not just about the admissions world, no – it's about having the nerve to look at this job you're doing and this life you're living and how you're in the process of launching everyone else into spectacular lives and realizing that it's time to launch yourself now.
IFC: This is a major departure for you, too. Your previous projects have almost all been these intense dramas, but this movie is genuinely funny. What brought on this shift in focus?
CRONER: What happened was, I'd written a lot of dramas for television and "One True Thing," which was very sad. And I'd just written the saddest thing ever about girl soldiers in Uganda ("Girl Soldier"), which is possibly one of the saddest things I've ever come across on this planet. So one night, out of the blue, I turned to my husband and said, "I want to write a comedy for Tina Fey." I had this realization that this was something I always meant to do, but I'd gotten on a particular path. So I guess I have a very personal connection to the story of a woman changing her life. [Laughs]
IFC: So you had Tina Fey in mind for this project from the very start?
CRONER: We gave her the book and I told her how I wanted to change it, and she signed on to the project. Once that happened, we were able to get it set up at Universal. Still, the real pressure was on writing that first draft and turning it in to perhaps one of the greatest writers out there, Tina Fey – which was thrilling and terrifying. But she read it and said she was in.
IFC: Is it intimidating to write for someone like Tina Fey, who is so highly regarded as a writer already?
CRONER: It's absolutely inspirational, and at the same time, every line you write, you think, "Tina's going to read this. Tina's going to judge this." So it couldn't have been more exciting. The chance to write for an extraordinary writer is a huge challenge, but it was also such an affirmation and a blessing. And here we are. I feel extremely fortunate.
IFC: Were there any surprises for you when you saw the final cut of the film? From the writing side, you can only envision so much, and then the director and cast put their own spin on your work…
CRONER: Well, in the same way that I took this book and made it my own, the director then came in and made it his own. That's the way it works. What surprised me most was what great chemistry Tina and Paul had when they were on screen together. They were somehow able to make parenting issues sexy. That really surprised me. It made the movie into this perfect date movie for parents, but it will also work for so many other audiences, too.
And I'll tell you what else: Lily [Tomlin] and Tina and I are all serious feminists, and the character that Lily plays in the film is so funny. She took it and ran with it. We're all able to laugh at ourselves and that part of ourselves, and Lily's ability to have such a sense of humor about that type of character she was playing was a great surprise.
IFC: So did this movie scratch that comedy itch for you, and now it's back to dramas? Or are you planning to try out another genre?
CRONER: The next thing I'm writing is an R-rated comedy for Charlize Theron, so I'm going even harder into comedy next time. And honestly, everything I've written along the way, I inevitably write a screwball sequence in every script that I have to cut out. So the comedy has always been there. Somebody once described life as this leaky life-boat and we're all going down together, so you can either cry about it or laugh about it. I've embraced the laughing as we go down.
IFC: Any interest in going back to television?
CRONER: Absolutely. I've written an autobiographical television series for Fake Empire, who did "Gossip Girl," "The OC," and a thousand other shows. It's based on growing up in Laurel Canyon, and it's about a woman who returns to her family's compound as an adult and moves back home. So it explores the same kinds of themes [as "Admission"] in some way.
IFC: Back to "Admission," what's the one thing you hope audiences will take away from the movie with regard to higher education and our pursuit of it?
CRONER: The point of the movie is that it doesn't matter where you end up going to school. It's not a referendum on you in any way. No one should ever base their self worth on these kinds of decisions, and unfortunately, these kids are in the insane situation of competing with far too many people and having to brand themselves and sell themselves. We're trying to look at this system and stand back for a second and say, "Don't let this define you." We're trying to take some of the pressure away from it and demystify the powers-that-be that seem to be determining your fate.
"Admission" hits theaters March 22, and stars Tina Fey, Paul Rudd, Wallace Shawn, Michael Sheen, and Lily Tomlin.