"Admission" review: Tina Fey aces college comedy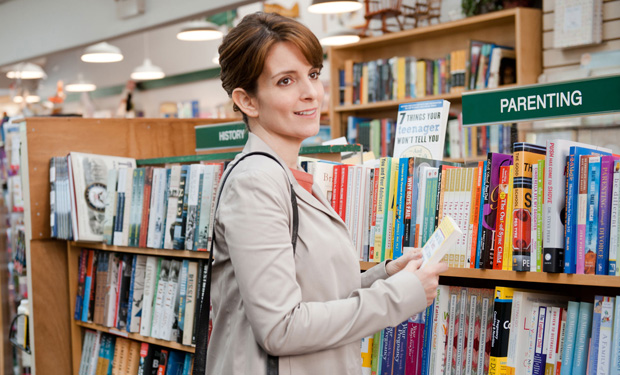 Posted by Rick Marshall on
The college-admission process can be the stuff of nightmares. You can have the greatest grades in the world, but let's face it: what really decides whether a potential student will be accepted generally remains a mystery. In "Admission," director Paul Weitz ("About A Boy") ventures beyond the admissions-office doors for a comedy that might not teach you how to get your child into an Ivy League school, but does offer one key element that makes it infinitely more interesting than any other college prep course: Tina Fey.
The talented "SNL" alum is one of Hollywood's fastest-rising stars these days, and "Admission" casts her opposite Paul Rudd in this romantic comedy about a Princeton admissions officer who has a crisis of faith when she's introduced to a quirky teenage prodigy who might be the son she gave up for adoption years ago. The film is based on the book of the same name by Jean Hanff Korelitz, a former reader for Princeton's admissions program tasked with evaluating prospective students.
From start to finish, "Admission" is a film that feels tailor-made for Fey – and it's no surprise that the screenplay was written with her in mind. Princeton admissions officer Portia Nathan is essentially Liz Lemon ("30 Rock") filtered through the tweed and sweater vests of Ivy League culture, equal parts smart and quirky, brilliant and awkward. Without the sort of personality Fey gives the character, Portia's crisis of faith would never be believable, and both Fey and screenwriter Karen Croner do a nice job of first giving her a reason to believe in what she's doing – and then giving her a reason to change.
"Admission" also benefits from an outstanding supporting cast headlined by Paul Rudd ("This Is 40"), whose chemistry with Fey makes it seem perfectly reasonable to want this duo to pair up for at least one movie together every year. They really are that good whenever they share a scene.
Also among the standouts in "Admission" is Lily Tomlin as Susannah, Portia's razor-tongued, feminist mother who serves up some of the film's best lines, as well as Nat Wolff, who finds the right balance of quirky brilliance as the teenage prodigy who may or may not be Portia's child. Wallace Shawn and Michael Sheen do a fine job with the brief roles they're given in the film, and fill out the performances nicely.
Even though "Admission" is saddled with the "romantic comedy" label, it's worth noting that the film is more of the latter than the former, and lets the romantic element naturally spin out of the comedy rather than simply forcing two funny people together. Rudd and Fey's relationship is a byproduct of events and not the main narrative of the film, and "Admission" is better for it.
To its credit, "Admission" manages to be a film that speaks to more than just the typical "date night" audience of parents and couples, and with any luck, will find that wide-reaching appeal validated at the box office. It's not often a film comes along that's just as much fun to watch with your parents as it is to watch with your partner or friends, but "Admission" is just that sort of film.
"Admission" hits theaters March 22. The film is directed by Paul Weitz and stars Tina Fey, Paul Rudd, Lily Tomlin, Wallace Shawn, Michael Sheen, and Nat Wolff.