A comic walk through sexual development in 10 steps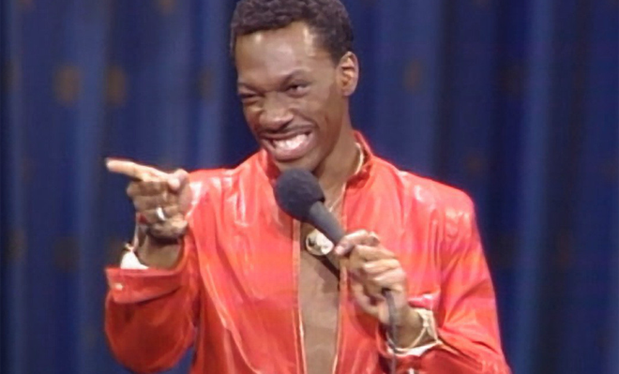 Posted by Andy Hunsaker on
6. Eddie Murphy on Infidelity
Full disclosure, as a young adolescent, I learned about the existence of the female orgasm from "Eddie Murphy: Raw," so for all the homophobia present in that performance, it had some positive effects as well. Such as this particular bit about what happens in the dating world when relationships become so commonplace they're essentially disposable, and idiot men cheat on women enough to drive them to do the same. In the Bahamas. With a dude named Dexter, whose junk would apparently frighten Laurie Elliott.
---
7. Wanda Sykes on Detachable Vaginas
Okay, not one of your normal steps in sexual progression, but is there really a more succinct way to say 'look, I like sex as much as the next person, but sometimes it's a pain in the ass?' Minds out of the gutter, people. Well, not entirely, given we're talking about detachable vaginas, but you know what I mean. Basically, once again, it's different for women, as they find their lives a bit more limited by being in constant possession of the object of unfortunate male obsession. Sykes posits that it'd be nice to have the option to take it off the table sometimes – but available in an emergency.
---
8. Louis CK on Miserable Married Sex
Eventually, people tend to marry each other (provided they are legally allowed to in their state), and most folks will tell you that it's not too long after the vows are exchanged that sex starts to become less of a priority, less exciting and less interesting. Especially once children are had, sex drops entirely off the radar for a while. Louis CK is no stranger to airing his dirty laundry to roomfuls of strangers, and he understands completely why his wife would want nothing to do with servicing her husband anymore. However, the need is still there for him, and his description of the saddest, most reluctant handie in the world shows us how low things can go for married folk.
---
9. Bernie Mac on Getting Too Old For It
Eventually, even the ever-horny gentlemen of a certain age will reach a point where they stop wanting to have sex so often, and yes, it can become a pain in the ass for them as well. Where once, it was a point of pride to last as long as possible and make a big production out of it, the older you get, the more you want to get in and out and done. As the late, great Bernie Mac put it, it shouldn't take any longer than one round of a heavyweight title fight to get the job done.
---
10. Doug Stanhope on The Complete Uselessness of the Whole Damn Thing
As usual, Stanhope attacks and destroys whatever subject he's taking on with crushing savagery of a train wreck. He furiously and ruthlessly demystifies the entire ridiculous process by decrying how worthless the human obsession with sex is, and how badly it derails the advancement of civilization – not that he's got much hope for it anyway. When you get down to it, sex is just this weird, sweaty, grunty thing that serves a biological need and an evolutionary function. "It's not that great. It's not that important," Stanhope insists, although with a brief caveat. "It's not BAD – it's free fun for poor people."
---
Have a favorite comedian bit about sex? Tell us in the comments below or on Facebook and Twitter.