10 ways to survive high school (according to movies and TV)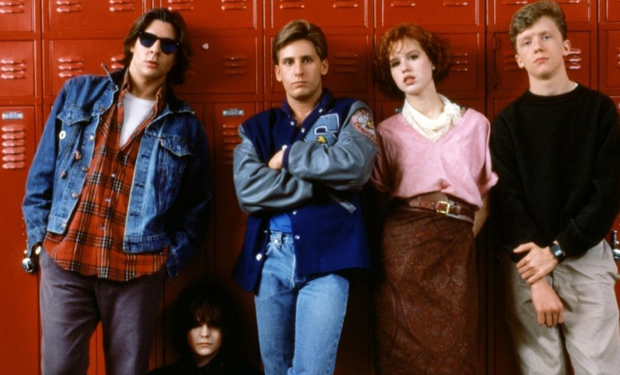 Posted by Andy Hunsaker on
High school is often fatal. We all know that every teenaged student in every learning institution everywhere is in the very real danger of dying of embarrassment at any moment. It is a strange time, full of questions, doubts, and the overwhelming urge to masturbate at the drop of a hat. Things get greasy, parts grow at inopportune times, hair appears in nightmarish tufts, your voice is cracked and your skin decides it hates you. And everyone is judging you at all times.
However, high school is also such a crucial time in our lives. It is the place where many of us learn how to engage in coitus and earn the horrifyingly traumatic emotional scars that affect how we relate to people for decades to come. All the dramatic potential involved means that our entertainment media tend to cover this ground quite a bit, and thus, they have plenty of suggestions on how to navigate the rough waters of adolescence. Therefore, let's run down a quick list of ways to survive the high school experience, as illustrated by movies and television.
---
1. Get super powers
Naturally, the easiest way to survive high school would be to gain supernatural abilities beyond those of mortal men. Not only does it immediately elevate your set of problems beyond those of petty adolescent issues, but you can destroy anyone who tries to bully you. Ideally, you'd be a superhero with telekinesis or something, but you can also do pretty well with being a sparkly vampire or a basketball-playing werewolf, too. It's all the rage.
---
2. Stay away from the popular crowd
By and large, popular people in high school are always evil. Not just generally overconfident and condescending jerks, but actual manipulative evildoers. They will not be satisfied with simply being more attractive than most – they are driven to actively crush all outliers to their worldviews. This attitude does tend to leave them prone to ultimate humiliation, though, so it's best to never be on their side of the coin – as alluring as being accepted among the beautiful people sounds. You will never actually be accepted, so it's better not to try. Besides, all the legitimately interesting people are never popular.
---
3. Make a horrible bet to manipulate the life of a classmate
Case in point, it's standard form for the people who reside in the rarefied air of the popular crowd (often, being cartoonishly rich helps one to get into that stratosphere, by the by) to toy with the lives of the people they view as their lessers. In high school terms, this often involves sporting wagers about nerds and proms. However, if you happen to be a participant in one of these bets, you've got a fifty percent chance of becoming a better person and falling in love with the person you're gambling over. If you like those odds, and you can handle suddenly growing a conscience and busting out some contrition, you'll come out the better for it.
---
4. Throw giant parties without adult supervision
This is a no-brainer, although you'll have some short-term suffering to endure to get to the survival benefits. You will go deep into debt, everything in your home will be broken, multiple people will vomit, there will somehow be a car chase, the police will give you static, and you'll probably find your significant other playing mattress hockey with your worst enemy. However, you will also be granted a legendary status, and dollars to donuts you will grow as a human being through bonding with your new best friends. Plus, there's a very good chance you'll get all sorts of laid.
---
5. Seek out hookers with a heart of gold
If you're having trouble populating your giant parties, you can always cheat out and hire professionals to attend and get their floozy on. Sure, it's skeevy, but you've got fairly good odds that they will turn out not to be ruthlessly broken opportunists, but rather slightly misguided girls who require the attention of one dedicated teenager to completely reinvent their lives and get back on the right side of the tracks. This also works if you ask porn stars to your prom (and that's even happened in real life) and, if you are particularly adept at the weirder sciences, perhaps you can even invent a woman to liven things up.