10 lessons learned from "Boogie Nights"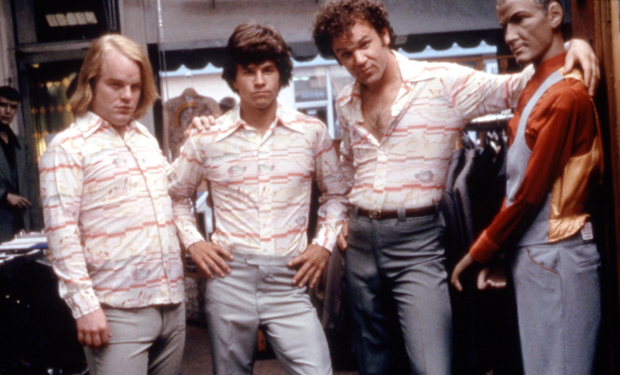 Posted by Andy Hunsaker on
"Boogie Nights," Paul Thomas Anderson's devastating look at the porn industry at the end of the 1970s and into the 1980s, has earned an enduring place in the zeitgeist. Also, I just like using the word "zeitgeist." The story of dim-witted Eddie Adams' transformation into porn legend Dirk Diggler, thanks to the mightiness of his immense wiener (I also enjoy using the word "wiener") fulfills his dreams of becoming a star, but like any story of success in the bright lights of California, the crash and burn is never that far off. Anderson's film is funny in spots, twisted in others, and when it veers into the truly dark, those are the scenes that really stick with you. Well, those, and Heather Graham on roller skates casually flinging her clothes off. It's certainly a cautionary tale as much as it is a retrospective drama, so here are ten lessons to be learned from "Boogie Nights."
---
1. Porn stars tend to come from bad parents
Chris Rock once said a father's job is to keep his son off the pipe and his daughter off the pole. In this case, Eddie's mother is so verbally abusive and alcoholically crazy that she drives her son to make a living off of his pipe/pole. The stories of those in the sex industry with histories of virulent, unconscionable mistreatment from their parents are omnipresent, although a goodly number of them claim to simply be exhibitionists. The odds are good, however, that if this is your child's chosen field – however noble a cause it might be to provide vicarious release to the anonymous lonely folk of the world – you may have messed up somewhere along the line.
---
2. Porn stars also tend to make bad parents
It seems that Amber Waves was born a few decades too early. In the early 1980s, being a porn star with a history of drug abuse and trouble with the law meant that you would be denied custody of and probably even visitation rights to your child, forcing you to cobble together what family you could amongst the people drifting in the same morass of emotional wreckage that you are. These days, it would probably land you, your child and your entire extended family a reality show on E! for fourteen seasons.
---
3. Do not repeatedly cheat on your significant other in public
Marital fidelity is a tricky thing to navigate in the porn industry, naturally, but it's perhaps not a good idea to treat your partner's concerns like this, as if they're nothing more than the inconvenient distraction of a noisy yap-dog watching you have sex with other people as a form of public entertainment. Sooner or later, your henpecked Little Bill may deny you the chance to experience the 1980s, or anything else ever again.
---
4. There has to be a better way to come out than this
It's certainly never easy to let other people know that you like them, and it's much less so when you're gay and you have no idea if they are. Although Scotty had plenty of filmed evidence to the contrary, he nonetheless bought a car because he thought Dirk would like it, all as an excuse to try to force a kiss onto him. If that's the way you choose to come out of the closet, it will probably leave you believing that you're a fucking idiot, too.
http://www.youtube.com/watch?v=7ydEMHcFGhU
---
5. Crime doesn't pay the people it's supposed to
The allure of the gun-toting, fast-paced world of crime is that it seems like easy money, but you can never underestimate the chaos of gunplay. Buck Swope just went into Dunkin' Donuts to get his pregnant lady some bearclaws, and thanks to an inconveniently-timed robber and an inconveniently-timed vigilante resulting in an all-too-convenient bloodbath, the only person that crime wound up paying was Buck, who happened to need some stereo equipment store capital.