What to watch tonight on IFC: The premiere of "Out There" at 10:30/9:30c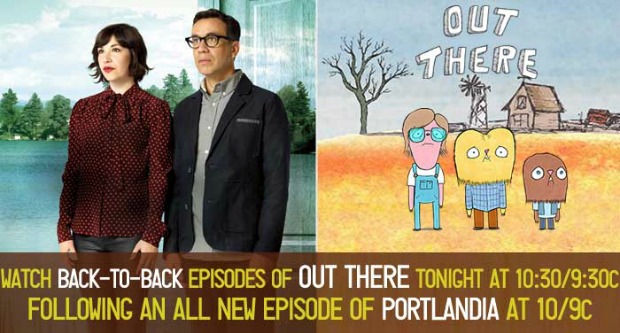 Posted by Melissa Locker on
No matter how inspired you are by tonight's brand new episode of Portlandia, don't go pickle anything, don't start making hand-crafted furniture and don't put a bird on anything. Instead, get comfortable on the couch because our new original animated series "Out There" premieres tonight at 10:30pm ET/PT with two back-to-back episodes.
"Out There" chronicles the life and times of Chad who is just trying to make it through high school without anything too embarrassing happening to him. There's nothing like the high school years when it comes to building character, right? RIGHT? By the way, have you looked at our list of the Top 10 awkward high school moments from movies and television ? Read that while you wait for Out There to premiere at 10:30/9:30c.
"Out There" is created, written by and executive produced by Ryan Quincy, the two-time Emmy-winning animation director and producer of South Park. The ten episode series chronicles the socially awkward Chad (Quincy), his little brother Jay (Kate Micucci) and his best friend, Chris (Justin Roiland). Principal cast members include Pamela Adlon (Louie, King of the Hill), Fred Armisen (Portlandia, SNL), Linda Cardellini (ER, Freaks and Geeks), John DiMaggio (Futurama, Adventure Time), Kate Micucci (Raising Hope, Bored to Death), Megan Mullally (Children's Hospital, Party Down) and Justin Roiland (Fish Hooks, Adventure Time).
This season features guest stars Ellen Page (Juno, Inception), Jason Schwartzman (Moonrise Kingdom, The Darjeeling Express), Sarah Silverman (Wreck It Ralph, The Sarah Silverman Program), Selma Blair (Anger Management, Hellboy) and many more.
Tune in tonight and we'll see you …out there.
Want the latest news from Out There? Like them on Facebook and follow them on Twitter @IFCouthere.
"Out There" premieres on IFC on February 22 at 10:30/9:30c