Five reasons to watch "Lethal Weapon" this Saturday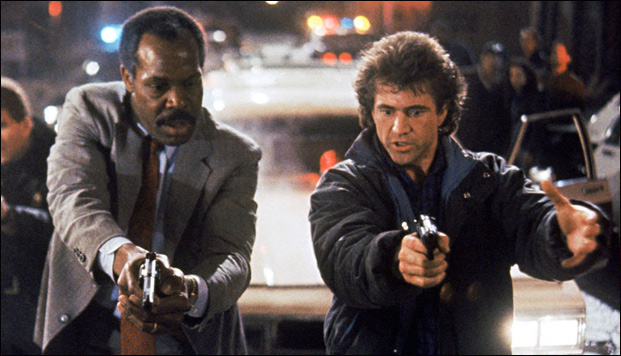 Posted by Melissa Locker on
The Dream of the 90s isn't just for Portlandia anymore! The dream is alive on IFC when we bring 90s nostalgia to our network with a double feature of 90s action classic "Lethal Weapon 3″ and "Lethal Weapon 4" starting at 8/7c on Saturday. So comb your mullet and practice saying "I'm too old for this shit!" because you're not going to want to miss watching Mel Gibson and Danny Glover in action as Los Angeles police detectives. In "Lethal Weapon 3" the odd couple detectives crush a guns-to-gangs operation with a wild woman (Rene Russo) from internal affairs who gives Mel Gibson a run for his money in the crazy department, which is really saying something:
In "Lethal Weapon 4," the partners team up to take down members of a Chinese triad who are smuggling families from the mainland. Who you gonna call when you need an assist? Chris Rock, because why not, right? "Lethal Weapon 4" starts Saturday at 10:30/9:30 c:
If just watching the trailers didn't convince you to tune in, here are five reasons to watch Lethal Weapon on Saturday:
5. Rene Russo
4. Chris Rock
3. Joe Pesci
2. Mel Gibson's Hair
1. Danny Glover
Want the latest news from IFC? Like us on Facebook and follow us on Twitter @ifctv.
"Lethal Weapon 3" airs on IFC on Saturday, Feb. 9 at 8 PM ET; Sunday, Feb. 10 at 3 AM ET; Wednesday, Feb. 13 at 8 PM ET; Thursday, Feb. 14 at 10:45 AM ET; Sunday, Feb. 24 at 8:30 PM ET; Monday, Feb. 25 at 2:45 AM ET and Sunday, Mar. 10 at 1 AM ET; "Lethal Weapon 4" airs on IFC on Saturday, Feb. 9 at 10:30 PM ET; Sunday, Feb. 10 at 3:45 PM ET; Wednesday, Feb. 13 at 10:30 PM ET; Thursday, Feb. 14 at 1:15 PM ET; Wednesday, Feb. 27 at 11:30 PM ET; Thursday, Feb. 28 at 11 AM ET; Sunday, Mar. 10 at 6:30 PM ET; Monday, Mar. 11 at 12 AM ET