Watch a new clip from "Out There," premiering tonight at 10:30/9:30c with back-to-back episodes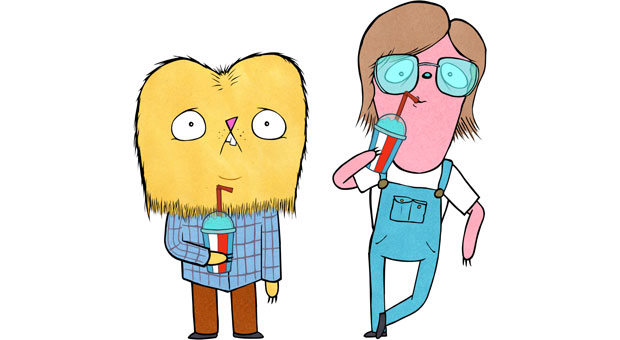 Posted by Melissa Locker on
Here's what we know so far about our new animated series "Out There": Megan Mullally, Linda Cardellini and Fred Armisen are providing voices for the cast of the new series, along with Ryan Quincy — the show's creator and a two-time, Emmy-winning animation director and producer of "South Park" — who is voicing the main character, Chad Stevens. Rounding out the chorus of voices: Pamela Adlon (Louie, King of the Hill); John DiMaggio (Futurama); Kate Micucci (Raising Hope, Bored to Death); and Justin Roiland (Fish Hooks). We know it's set in the small town of Holford and that it follows the lives of Chad, his younger brother Jay (Micucci) and best friend Chris (Roiland) who are all just trying to get through adolescence without anything too embarrassing happening to them. Good luck with that!
Here's what you didn't know: There's a whole roster of incredible stars providing their vocal talents to the show, including Jason Schwartzman (Moonrise Kingdom, The Darjeeling Express), Sarah Silverman (Wreck It Ralph, The Sarah Silverman Program), Selma Blair (Anger Management, Hellboy), Jemaine Clement (Flight of the Conchords), Nick Offerman (Parks and Recreation), Ellen Page (Juno, Inception), Stephen Root (King of the Hill, Office Space) and Christian Slater (Breaking In, Robot Chicken). Each of these awesome and talented folks will voice a variety of characters in the coming-of-age comedy when it premieres Friday, February 22 at 10:30pm ET/PT with two back-to-back episodes.
You can get to know a little more about "Out There" by watching a full episode right here and by watching this brand new clip . Watch this clip from "Out There" now and then again and again and again until February 22nd when the show premieres at 10:30/9:30c:
video player loading
.
.
.
Want the latest news from IFC? Like us on Facebook and follow us on Twitter @ifctv.
"Out There" premieres on IFC on February 22 at 10:30/9:30c