"Warm Bodies" director Jonathan Levine explains why Seth Rogen was the film's "safety net"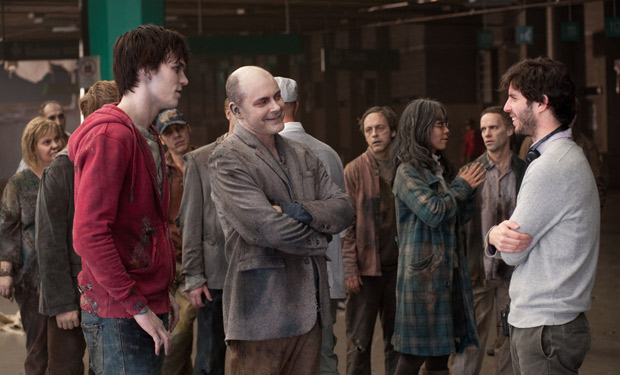 Posted by Jennifer Vineyard on
When you listen to the voiceover in the new zombie comedy "Warm Bodies," think of Seth Rogen. Director Jonathan Levine, who worked with the comedian on his cancer comedy "50/50," showed him the film at around the same time as Rogen was finishing up his apocalypse comedy "This Is The End," and the two directors gave each other a screening of their respective films and swapped notes. For "Warm Bodies," Levine had been struggling with how to help his zombie lead R (played by Nicholas Hoult) to articulate himself, given that he's mostly prone to grunts at first.
"Seth was like, 'You either have to make the voiceover funnier, or lose the voiceover entirely,'" Levine told IFC. "I was like, 'I want to make it funnier,' so he said, 'Okay, here are some ideas.' So I stole his ideas. I do whatever he says."
Levine, who said he's been a fan of Rogen's since "Freaks and Geeks," called him his "safety net." "He helped with the voiceover, helped with the pacing, and then I came in and kind of maybe helped him with his movie. His movie is in great shape. I'm giving it two enthusiastic thumbs up. It's going to be a monster."
And Levine knows his monsters. He put actors such as Hoult and Rob Corddry through "zombie training school," a class led by Jean-Jacques Pillet from Cirque de Soleil, who taught them how to move like corpses, "a lot of really weird shit." (Though the director has a cameo, he didn't play a zombie himself, just a guy teaching a zombie how to catch a ball. "I have a cameo in every movie," he admitted. "In '50/50,' I'm in the back of the bus. In 'The Wackness,' I'm the first person walking down W. 4th Street getting the middle finger.")
When not in zombie training school, actors on set bonded over watching viral videos. John Malkovich, in particular, became quite adept at imitating them. "It was the funniest shit ever," Levine said. "He was talking whatever video was the top thing of the week, party boy, girl on a toilet, and re-enacting it verbatim, in character, perfectly. And he's John Malkovich, so you can imagine. There was one where he was like, 'I want some waffle fries for free!' I remember that one: 'I want some fucking waffle fries.'"
"Warm Bodies" is based on the book by Isaac Marion, and the author is already working on a sequel, which both intrigues and scares Levine. "I always find it really weird to talk about sequels when we have no idea if anyone's going to go see the movie or not and like it — which I really hope they do!" he laughed. "So if that happens, then, yeah, I would be thrilled to have the opportunity to revisit these characters." Just don't ask to him to try to survive an actual zombie apocalypse, because that scares him even more. "I'd be fucked," he said. "I'd be totally fucked. I'd be horrible. I would just curl up in a fetal position and weep copiously, and I would do that maybe even before there was a zombie apocalypse. I'm a bad person to have in the trenches."
Will you be checking out "Warm Bodies" this weekend? Tell us in the comments section below or on Facebook and Twitter.