Top 10 awkward high school moments (in movies and TV)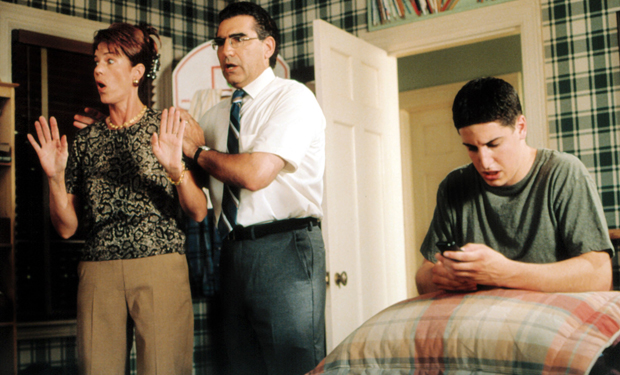 Posted by Bryan Enk on
There's nothing like the high school years when it comes to building character (or something) through a little (or, in most cases, a lot of) humility. Here are the Top 10 moments in movies and television where the hapless teenagers on display probably wanted to just crawl into a corner and die — but you know what they say about what doesn't kill ya …
---
10. "Bring It On" (2000)
This somewhat ahead-of-its-time meta-comedy opens with an impressively choreographed cheerleader routine that introduces the film's main characters (well, half of them, anyway — there's a whole other cheerleader team that shows up later on) via a series of leaps, flips and self-deprecating wink-wink lyrics ("I'm major, I roar / I swear I'm not a whore!"). Just when the whole thing's about to become a bit too self-congratulatory and indulgent for its own good, BAM! It turns into a dream sequence, one in which our dreamer, Torrance (Kirsten Dunst), suddenly appears buck naked in front of the entire student body. Inexplicable nightmare-laughter ensues (we're sure the sight of a naked Kirsten Dunst inspires a lot of things but laughter probably isn't one of them) with at least one audience member showing his appreciation with an exclamation of "Nice rack!" We could only dream as well until Kirsten finally let us see for ourselves 11 years later in Lars Von Trier's "Melancholia."
---
9. "Carrie" (1976)
Suddenly getting your period in the shower is bad enough. But suddenly getting your period in the shower in a Stephen King movie is even worse, as the horror scribe is known for portraying humanity (or what passes for it) at its most cruel … and, really, there may be nothing more cruel than high school students when the dark mood strikes them. Poor Carrie ends up cowering in the corner, the water pouring down her naked body as her classmates bombard her with tampons: "Plug it up! Plug it up! Plug it up!" It's a miracle that our troubled heroine didn't just unleash her fiery powers right there, 'cause we this kind of humiliation is way more emotionally damaging than having your prom dress ruined by pig's blood.
---
8. "She's All That" (1999)
This modern-day retelling of "Pygmalion" (or "My Fair Lady" for you musical fans) is pretty mediocre even by the subgrade standards of Freddie Prinze Jr. movies, though it definitely scores a few points for indulging in some pretty subversive flourishes … some of which make for gross-out gags that, despite the film's (highly questionable) PG-13 rating, rival any semen-drinking "American Pie" shenanigans. "Eating" and "stuff that springs from male loins" again make a dangerous mix here, though we have to admit we might prefer the "Pie" beverage of choice over "Hoovering" (as Freddie puts it) someone's pubic hair … and as a pizza topping, no less. Kudos to director Robert Iscove for remembering to have everyone in the cafeteria react accordingly — this outrageousness ain't happening in a vacuum, after all.
---
7. "Sixteen Candles" (1984)
No on can hit the complicated, confusing and often ugly emotional truths of the trials and tribulations of being a teenager quite like the late, great John Hughes. His characters — and character insights — are pretty much timeless; indeed, all "The Breakfast Club" (1985) would need to be updated for the 21st century is having the principal tell the detention attendees that cell phones must be turned off for the duration of the day. However, Hughes was also quite the notorious goof, not afraid to indulge the broad strokes of slapstick and absurdity … sometimes in a scene that just a few frames earlier was rather dramatic and realistic. Take, for instance, this almost unbearably embarrassing (and admittedly very silly) moment from "Sixteen Candles" — we hope no one on the planet has grandparents like the tactless, bad-joke-telling, molesting freaks on display here.