Tim Grierson on the Enduring Legacy of "Die Hard"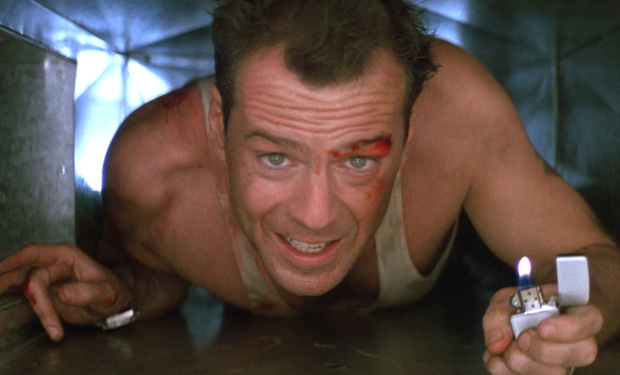 Posted by Tim Grierson on
On July 15, 1988, the weekend's big action-thriller was a film featuring one of Hollywood's most beloved characters played by one of its biggest stars. I'm speaking, of course, of "The Dead Pool," the last of Clint Eastwood's "Dirty Harry" movies. But that weekend also included another release, although it was only on 21 screens. Starred some TV actor. Had a kinda ridiculous premise. It was "Die Hard."
It's been 25 years, and a lot of the movies from that summer have been forgotten: "Cocktail," "Young Guns," "A Nightmare on Elm Street 4: The Dream Master." But "Die Hard" has endured. This Friday sees the release of the franchise's latest sequel, "A Good Day to Die Hard." Over time, the series has gotten increasingly more ludicrous and cheerfully over-the-top. But at its core, the scrappy, underdog spirit of that original "Die Hard" remains. Which is another way of saying, thank god for Bruce Willis.
When the original "Die Hard" opened, Willis had enjoyed a little success in films thanks to the comedy "Blind Date," which had come out the year before. (He followed it up with "Sunset," a bomb.) Still, Willis was primarily known for his Emmy-winning role as David Addison on the comedy-drama series "Moonlighting." He wasn't the most obvious choice to play John McClane, a NYPD officer who has to take out a bunch of terrorists holding a gaggle of hostages (including his estranged wife) in a Los Angeles skyscraper right before Christmas. This was the 1980s, when action heroes were played by Schwarzenegger or Stallone.
But the secret to the film's success — the whole franchise's, really — was that Willis didn't try to be one of those action heroes. Instead, he seemed to take a page from Harrison Ford, whose "Star Wars" fame had only grown due to the Indiana Jones films. As Indy, Ford never wowed us with his hulking frame; it was his sarcastic, black-and-blue ordinariness that made the character so appealing. He was a hero not because it was easy but, rather, because it was really hard. Willis took wisecracking David and turned him into a reluctant gun-toting, explosion-evading grumpy smartass who wanted to defeat the bad guys mostly because they were annoying the hell out of him. Eddie Murphy had proved the viability of the high-octane action-comedy with the "Beverly Hills Cop" movies, but in "Die Hard" Willis leaned more toward the action than the comedy. In '88, people probably didn't go to "Die Hard" because it was funny. That was just a lucky side benefit.
It also didn't hurt that he was paired with a truly fun nemesis. As Hans Gruber, Rickman did a variation on every super-snide James Bond villain that came before, except he was actually smart and not campy. It's almost as if Rickman wasn't aware that '80s bad guys were supposed to be really cheesy. Best know for his work on the stage and on television in England, Rickman wasn't well-known by film audiences. For all we knew, maybe he was a criminal mastermind. (And for all the fine performances he's given since, his cool, slightly haughty demeanor has been their constant through-line, connecting him back to Hans forever.)
Another reason the film has held up is because it's simply ingenious. Based on the 1979 book "Nothing Lasts Forever," "Die Hard" basically invented a whole new genre of action movie: one in which a regular guy is trapped in a location with a bunch of heavily-armed baddies. (As luck would have it, though, these "regular guys" often just happened to be buff dudes like Steven Seagal or Jean-Claude Van Damme.) This was a major change from most action movies, which drew their excitement from elaborate chase sequences or scenes in which the hero has to infiltrate the villain's stronghold. With "Die Hard," McClane was constantly hiding in the Nakatomi Plaza trying to evade capture while communicating via walkie-talkie to a local cop (Reginald VelJohnson) outside the building. The film was more of a cat-and-mouse thriller than a conventional shoot-'em-up. (Although, granted, there is still a lot of shooting 'em up.) Maybe that's why none of the sequels was ever quite as good: They all had Willis, but they opened up his world to make them more like other people's action movies.
This isn't to say that "Die Hard" is perfect. As groundbreaking as the film is, it features one of the stupidest side characters in all of action movies. That, of course, would be Dwayne T. Robinson, the LAPD chief played by Paul Gleason who's almost maniacal in his distrust of McClane. As Roger Ebert said perfectly in his review at the time, "As nearly as I can tell, the deputy chief is in the movie for only one purpose: to be consistently wrong at every step of the way and to provide a phony counterpoint to Willis' progress. The character is so willfully useless, so dumb … that all by himself he successfully undermines the last half of the movie." That may be a bit of an exaggeration, but Robinson does deliver the film's unforgivably dumbest line: After a FBI helicopter is destroyed, killing everyone inside, he matter-of-factly comments, "We're gonna need some more FBI guys, I guess." It's entirely possible Gleason is playing the same numbskull from "The Breakfast Club."
But when you go back and watch "Die Hard" now, fondness will probably help you forgive those types of problems. Above all, what's great is that the movie doesn't realize it's going to give birth to a genre or a franchise. It's just this plucky little movie about a dude in an undershirt winning back his wife by saving her and her coworkers. The movie is simply a great idea executed extremely well.
The sequels realized that they never could recapture the once-in-a-lifetime ingenuity of the "Die Hard" plot, so they had to keep expanding the concept and adding new quirks, all the while joking about the fact that, yes, it is completely preposterous that the same shit keeps happening to the same guy over and over. In "A Good Day to Die Hard," which I haven't seen yet, he's fighting alongside his son — a plot point that I'm sure Fox is hoping will extend the brand after Willis really is too old to be doing these movies. But it's funny how the franchise has come full circle. "Nothing Lasts Forever," the book that inspired the original movie, was written by Roderick Thorp and was itself a sequel to his book "The Detective," which became a movie starring Frank Sinatra in 1968. In "Nothing Lasts Forever," the hero (Joe Leland) is an older guy trying to save his daughter and grandchildren from terrorists. No doubt Fox decided to make McClane younger for "Die Hard" so that it seemed more realistic. Nowadays, McClane's old enough that such a storyline doesn't seem nearly so farfetched anymore.
You can follow Tim Grierson on Twitter.