This week in comedy podcasts: Comedy Bang! Bang! and WTF with Marc Maron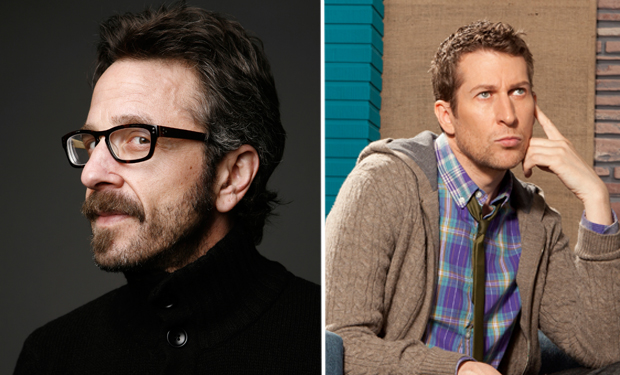 Posted by Melissa Locker on
This week on Comedy Bang! Bang! Scott Aukerman hosts Gillian Jacobs and Garry Marshall, return to the show for an update on their relationship during the Comedy Bing Bong! segment. Highlights include discussing what went wrong in their marriage, the truth behind Garry's deceased wife Barbara and whether or not there will be enough cursing for Garry's grandkids to enjoy. Download the episode here.
You can also watch the Comedy Bang! Bang! video podcast of "Aren't You Glad" featuring Roastmaster General Jeffrey Ross and Canadian singer-songwriter Ron Sexsmith in their Comedy Bang Bang debut. Plus, Sarah Silverman sings some of her telegrams. Check out the full video here:
Meanwhile over on WTF, Marc Maron sits down with comedy legends Carl Reiner and Mel Brooks. In Marc's garage, Marc talks to Mel about his life, from his youthful days in Brooklyn and his time served in World War II to his triumphs on the big screen, the small screen and The Great White Way. It's Mel Brooks. What more is there to say? Then, Marc talks to Carl they talk about Carl's journey from writing to acting to directing, as well as his collaborative relationships with Sid Ceasar, Dick Van Dyke, Steve Martin and, of course, Mel Brooks. If you haven't subscribed to WTF on iTunes yet, you are doing life wrong.
Watch and listen as Mel Brooks explains Jewish comedy to Marc:
Want the latest news from Comedy Bang! Bang!? Like them on Facebook and follow them on Twitter@comedybangbang and use the hashtag #cbbtv.