Felicity Jones confirms she'll be in "The Amazing Spider-Man 2"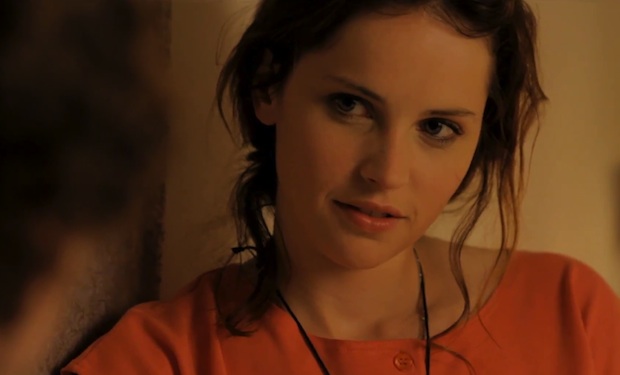 Posted by Terri Schwartz on
Though we still don't know who she'll be playing in the movie, Felicity Jones has confirmed her involvement in "The Amazing Spider-Man 2."
During an interview with RTL Netherlands (via ComicBookMovie.com), Jones shared the news that wasn't revealed in the "Amazing Spider-Man 2" press release: She is going to be in the flick. "I've never done a superhero movie. It's very nice to you as an actor in several worlds to go and to experiment," she told the site. It's not much to go on, so she'll likely only have a small role, but it's nice to see the "Like Crazy" actress making a foray into blockbuster projects.
Jones' potential involvement was revealed around the same time it was teased that Paul Giamatti would play The Rhino. He is also confirmed for "The Amazing Spider-Man 2," meaning the flick has at least two villains (Electro and The Rhino) and also three major actresses (Emma Stone, Shailene Woodley and Jones). Color us intrigued.
In addition, the flick officially stars Andrew Garfield, Jamie Foxx, Dane DeHaan, Colm Feore and Sally Field. Foxx is playing Electro, DeHaan is Harry Osborn and Woodley is Mary Jane Watson. Here's the official synopsis:
In "The Amazing Spider-Man 2," for Peter Parker (Andrew Garfield), life is busy – between taking out the bad guys as Spider-Man and spending time with the person he loves, Gwen (Emma Stone), high school graduation can't come quickly enough. Peter hasn't forgotten about the promise he made to Gwen's father to protect her by staying away – but that's a promise he just can't keep. Things will change for Peter when a new villain, Electro (Jamie Foxx), emerges, an old friend, Harry Osborn (Dane DeHaan), returns, and Peter uncovers new clues about his past.
Who do you think Jones should play in the movie? Tell us in the comments section below or on Facebook and Twitter.