Stephen Chbosky talks "The Perks of Being a Wallflower", Blu-ray extras, and his favorite teen films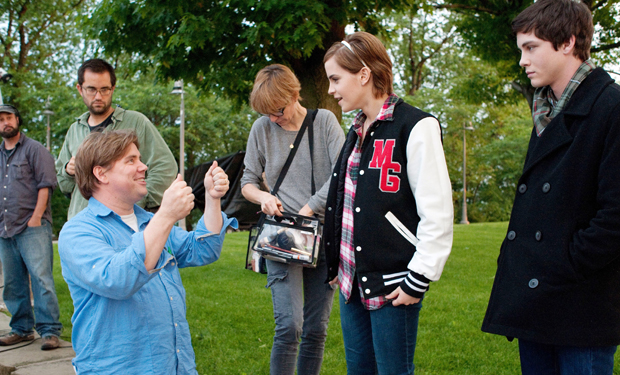 Posted by Scott Neumyer on
Stephen Chbosky's much beloved 1999 novel "The Perks of Being a Wallflower" took so long to make it to the silver screen that most fans had nearly given up hope. Little did they know, however, that Chbosky was just biding his time waiting for the right cast to come along to play the emotional roles he's held so close to his vest for the past decade. More than ten years since the book's release, 2012 finally saw Chbosky adapt and direct his own novel for the big screen as "The Perks of Being a Wallflower" (available now on Blu-ray and DVD) wowed critics with its unflinching and heartfelt look at teen life, its stellar cast, and its absolute refusal to disappoint the dedicated fans who have waited for so long to see Sam, Charlie, and Patrick come to life.
Chbosky recently sat down with IFC.com to discuss the process of adapting his blockbuster novel, working with his young, talented cast, and the coming-of-age films that inspire him.
IFC: On the Blu-ray bonus features, you mention that "The Perks of Being a Wallflower" took so long to make it to the big screen because you were waiting for this cast. How did you find and assemble this cast, and how did you know it was the right one?
STEPHEN CHBOSKY: Once I was done with the screenplay, I knew what I was looking for, not only in terms of finding great actors, but also finding great people, which was very important. I knew that if I was ever going to truly portray Sam, I couldn't just find some diva that was going to "play" her. I needed someone who would embody it – somebody kind and generous like Emma [Watson].
We had wonderful casting directors, wonderful producers, and we all had ideas. I just did my work and I saw 500 or 600 kids. There's always that moment when someone walks in the door, or you're on Skype with somebody like Nina [Dobrev] in Atlanta or Ezra [Miller] in New York because you don't have time to fly all these places. Little by little you assemble your cast. It's a great, great thing.
IFC: What you've done on this film is basically the ultimate writer's dream. You have this huge blockbuster book that's meant so much to so many people for a very long time, and then you actually get to write the screenplay and direct it. Most writers have zero say in their movie adaptations. How did you pull it off?
SC: Those writers that have zero say in their movie adaptations have zero say because they sell it. If you don't sell it, and you do it yourself, and you wait until the screenplay is ready, you don't have to worry about that. I wrote that screenplay until I knew it was as good as it was ever going to be. Then I went and got my producers, and they had a couple of ideas that I didn't have that made it a little better. Then I got Emma and Logan [Lerman], and they had some thoughts that made me consider some moments that made it better. Ultimately, I was always in charge of this train, and I was never going to give it up.
IFC: So you would have been fine with it if this film never came to be and you just had this great book to hold onto?
SC: I had to be. Listen, I would have been crushed had the movie not happened, but I had to be willing to have it not happen if I was going to do it right.
IFC: Ezra mentioned to me that he and Mae begged you to let their characters be chain smokers like they were in the book. Was there anything in the novel that you wish could have made it to the big screen?
SC: Well, I'm really happy now that the DVD and the Blu-ray is coming out so people can see some of the deleted scenes. I really wanted the subplot of Charlie's sister. I just felt that, in the context of the movie – and, listen, it was my decision to cut it – that it just made the movie just a little bit edged on the side of too much.
Same with the poem. The poem is gorgeous. As a standalone piece, it's amazing. There are these moments that, as standalone moments, I think are beautiful, but it's just that the tree is great, but the forest didn't work as well with it in there.
It would have been a lot more difficult to cut some things out in the era before the DVD extra because I knew that these things could still live on. I insisted with the studio that we be given a proper budget so that we could scan the negative and mix and score and color correct the deleted scenes. I wanted them to be as good a quality filmmaking as the film itself.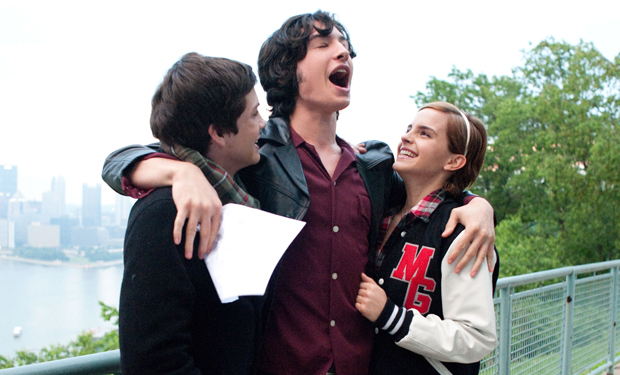 IFC: Were you nervous about how the book would translate to the screen or did all that start to fade away once you locked in your script and you started assembling this amazing cast?
SC: It's a good question, but I wasn't really nervous. I was terrified. [Laughs] But in a great way because I just decided early on that this was either going to be everything that I wanted it to be for the book, for myself, and for the fans of the book, or it was not going to exist. And when you put that standard on yourself it makes you work really hard because it's not about just selling some screenplay or just making some movie. It was about doing it right. I thrived under the pressure, though, so I enjoyed it.
IFC: Teen films these days don't exactly get the best rap. Are you surprised at all how well the film was received critically?
SC: Yes and no. I knew that when you make an honest movie about what young people go through that you are risking enormous backlash. You know, very often people just want to dismiss what kids go through as trivial. When I was that age, I didn't think it was trivial or young folly at all. So, in that respect, I was pleasantly surprised that the adult critics embraced it as much as they did.
IFC: The film is steeped in this 1990's nostalgia, but it also feels really timeless to me. Was it a concern for you guys to make the film have this timeless feel?
SC: Yeah, that was my vision for it. There are a few touches of the 90's with the music, the cars, a little bit of the fashion, and other things. Some things from the 80's as well. So there's enough in there if you want to seek it out.
When I did a study of all the coming-of-age movies that meant a lot to me, whether it was "The Graduate" or "Rebel Without a Cause" or "Dead Poet's Society" they all had that timeless feel. None of them were completely married to the details of their age. They felt timeless in their treatment of it. That's what made them resonate with me. That's what makes those movies still among my absolute favorite movies, and I wanted to follow that tradition.
IFC: I was actually going to ask you what teen or coming-of-age films you enjoyed and may have served as some inspiration for your movie.
SC: There are so many. "Rebel Without a Cause" "The Graduate" "Harold and Maude" "Stand by Me" "Dead Poet's Society" "The Breakfast Club" and "Juno" I would say those are the big seven.
There have been other great ones. "Election" was great. "Rushmore" was great.
IFC: I'm glad to see "Harold and Maude" in there!
SC: Me too. "Harold and Maude" was a seminal movie for me because it's not only a beautiful love story, but it's also about the moment when misfits find each other.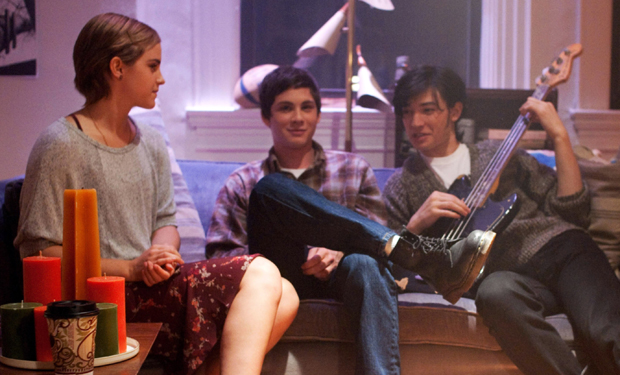 IFC: Can you tell me a little bit about what I thought was one of the best scenes in the film: Ezra, Emma, and Logan dancing to "Come On, Eileen"?
SC: It was in the script. I didn't specify the song, but I always secretly wanted it to be that song. I picked the song and the first day that I got Ezra, Emma, and Logan together for lunch, I sent Ezra and Emma off with our choreographer to construct the dance. I had some of my own thoughts as well, but I thought, "What better way to bond two people who don't know each other than to just make them dance together?"
The fact that they both love dancing and they both sing, they have that circus performer spirit in them. It bonded them very quickly.
And Logan just did his job. [Laughs] He knew exactly how to dance off that wall. So cute.
IFC: Do you have a favorite memory of the film, either on screen or off?
SC: I have two. One is certainly watching Emma Watson fly through the tunnel. That was extraordinary. And that's why I included that entire silent take of her just going through that tunnel in the Blu-ray. There was something about watching her so happy and free going through. I'll never forget it because I felt like that moment gave her something. Something for the character, yes, but much more importantly something for her life.
This is a young woman who grew up in the eye of a hurricane and who had enormous pressures on her from the time she was nine, ten, eleven years old. This is her just getting to be a kid. So I'll always treasure that.
The other one is really funny to say because it's such a small piece of the movie, but it's prom. We had maybe half an hour to shoot going to the prom limo and the sun was going down and we were always up against it because we were a lower budget movie. I had it scripted, but I just had them do it. What was amazing was watching Emma, Logan, Ezra, and Mae – none of whom ever had prom – this was their prom. These four young people who I adore. They got to have prom, and that meant a lot to me. I'll always remember that because I'll always love these kids.
IFC: You actually wrote one of my favorite TV shows of the past decade or so: "Jericho". There have been so many rumors of the show continuing on Netflix or there being a movie or something else entirely. Have you heard anything positive in that direction?
SC: All of the rumors that you hear? All those conversations? They're real. Whether or not it's ever going to happen, I have no idea. I have no control over that. I hope it does for the fans. I hope it does for the cast. I think we had a great ensemble and we have really devoted, terrific fans. So, I hope so, but I don't know. If you asked me to bet on it, I wouldn't. I just don't know what the odds are, but these are real conversations that are happening.
IFC: After this film, you're going to be a hot commodity in the director's chair. What's next for you?
SC: Right now I'm almost at the end of my second novel and I'm going to adapt that book as well.
IFC: It's not going to take ten years this time, though, right? [Laughs]
SC: No no no. It won't at all. I found, through the process of doing "The Perks of Being a Wallflower", that I really love directing movies and I love writing books and so this will become the centerpiece of my career for the next ten or twenty years. Doing these adaptations.
Listen, if something came along that somebody else wrote or an adaptation of another book that I could just do, if I connected to the material, I would love to do that. So I'm always open to it.
In the meantime, I'm just going to keep doing what I do.
Stephen Chbosky's "The Perks of Being a Wallflower" is available on Blu-ray and DVD now.