"Star Trek Into Darkness" reveals intriguing new images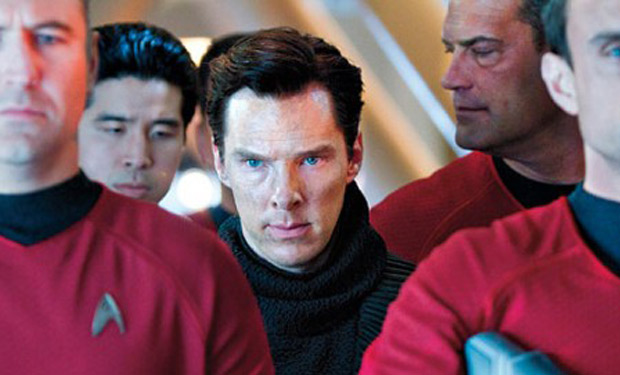 Posted by Terri Schwartz on
If the "Star Trek Into Darkness" Super Bowl TV spot wasn't enough to satisfy your need for the new J.J. Abrams film, then these new images should scratch that itch. Entertainment Weekly has debuted four new photos that show off the upcoming movie.
In the first, we see a slightly older and slightly more Nimoy-ish Zachary Quinto as Spock. He stands alongside Chris Pine's Captain Kirk, and they seem put off by something in the distance. Could that thing they're so uncertain of be Benedict Cumberbatch's John Harrison, who is revealed alongside a bunch of red shirts in the next image (below)? He is described by co-writer Alex Kurtzman as a "member of Starfleet who turns on Starfleet," so he could ingratiate himself with the crew before he turns all-out terrorist on them.
The third image shows Kirk in a dangerous situation has he tries to hold himself away from flames in what looks like the Enterprise. The last photo shows Zoe Saldana as Uhura, who she promises will kick "more ass" this time around. It's interesting to see that she's wearing a new red suit. Does that mean anything significant?
"Star Trek Into Darkness" is directed by J.J. Abrams and stars Pine, Zachary Quinto, Zoe Saldana, Simon Pegg, Anton Yelchin, Karl Urban, John Cho and Bruce Greenwood. Newcomers Alice Eve and Benedict Cumberbatch have been added in undisclosed roles. The film is slated to hit theaters on May 17 in IMAX and 3D. It's been revealed that over 40 minutes of "Star Trek Into Darkness" will be shown in IMAX. Here's the official synopsis:
In Summer 2013, pioneering director J.J. Abrams will deliver an explosive action thriller that takes "Star Trek Into Darkness." When the crew of the Enterprise is called back home, they find an unstoppable force of terror from within their own organization has detonated the fleet and everything it stands for, leaving our world in a state of crisis. With a personal score to settle, Captain Kirk leads a manhunt to a war-zone world to capture a one man weapon of mass destruction. As our heroes are propelled into an epic chess game of life and death, love will be challenged, friendships will be torn apart, and sacrifices must be made for the only family Kirk has left: his crew.
What do you think of the new photos? Tell us in the comments section below or on Facebook and Twitter.