Exclusive premiere: Frontier Ruckus "Careening Catalog Immemorial"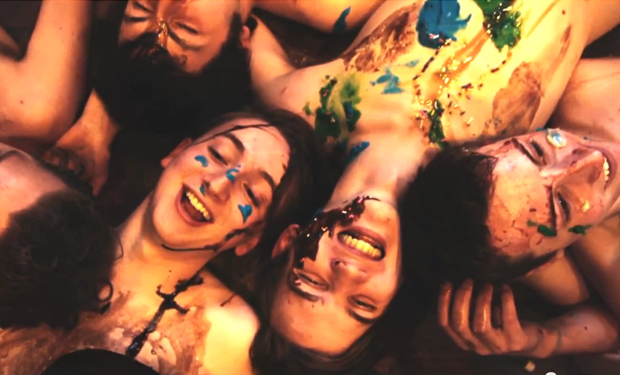 Posted by Brandon Kim on
Sometimes the authorial intent of a song meets the vision of a director and a music video is born with such clarity that from that point on neither can exist in the mind without the other. This is the case with Frontier Ruckus' "Careening Catalog Immemorial" through the lens of director David Meiklejohn, a vision reminiscent of the urban haute bourgeoisie aesthetic of Whit Stillman — if his film musings had been set to a coming of age song in the Midwest.
"The filmmaker Derek Jarman once wrote that he 'had seen very few films on male love which are gentle, they usually have a violent subtext,' and I took that as a challenge," Meiklejohn said of his fantastically refreshing portrayal of male youth. "I wanted to tell a story of young friends who love each other with such tenderness that even their fighting was sweet and playful."
Songwriter Matthew Milia assembled "Careening Catalog Immemorial" from bits and pieces of lyrics and ideas he had left after most of the other 19 tracks on "Eternity of Dimming" were carefully finished. "It was a chance to have a lot of fun with all these lyrical orphans that I loved so much, but just hadn't been able to find a home elsewhere," Milia said. "What I had was a catalog of whacky couplets and cocky rhymes, each becoming its own stanza of disparate memories and eras for this metaphorical white limousine or minivan to careen through on the black-ice. It's some memory-vehicle traveling recklessly from world to world of a tender childhood psyche."
In some synchronous twist of fate, Meiklejohn had the perfect mental compliment to the Milia's memory-vehicle. "I took a walk and tried to think of the absolute raddest thing in my life right now, and then I remembered a photo I saw of my teenaged friend Isaac and his pals hanging out shirtless around a table of food after a hearty Thanktober feast," the director recalled. He promptly called up his young friend and pitched the idea of recreating the scene with all his (non-actor) friends. Two weeks later the video was shot in his house.
"The result was perhaps the purest distillation of idyllic youth mingling with abrupt adult punctuation that I shot to represent throughout the album" Milia added. "Definitely an accidental personal fav of mine on the record."
video player loading
.
.
.
"What David Meiklejohn did with the video — emphasizing all of those youthful and playful elements in the narrative and color tones — was masterful," Milia exclaimed, and one can almost see him shirtless, chocolate syrup in hand. "There's a sort of ecstatic but red-faced ambiguity intrinsic to my feelings for early adolescence which he just nailed visually. I love the little nuances he throws in—like the kids tilting their heads at a Nintendo magazine centerfold as if it's porn. He's a brilliant stylist."
Let us know how you fell about your red-faced adolescence in the comments below or on Twitter or Facebook!