Tim Grierson on the Five Good Things That Came Out of Oscar Season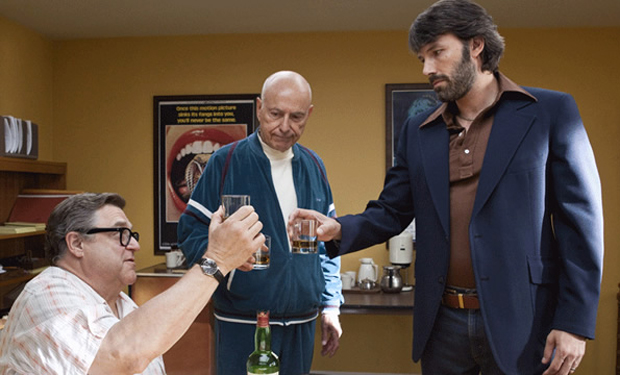 Posted by Tim Grierson on
Oscar season, which starts approximately at the beginning of September, at long last came to an end last night. Even someone like myself who finds much to enjoy about this time of year has to admit that the past five months of constantly tracking which movies and performances have "heat" or "buzz" has been incredibly tiring. Still, optimist that I am, I'd like to think that there's still some net good that comes out of the seemingly endless buildup to the Oscars. The Academy Awards may still reward the wrong people and overlook the truly worthy, but this year, as always, they also had their positives…
1. They inspired people to see small movies they might not have otherwise.
Films like "Argo" or "Les Miserables" would probably have been hits even without a Best Picture nomination. But nominations for other films helped elevate them to must-see status for people who are choosier in their viewing habits. "Amour" might have seemed too depressing, "Lincoln" could have looked too dry, "Beasts of the Southern Wild" might have seemed too strange, and "Zero Dark Thirty" could have felt too difficult. But hearing that these movies were in the running for the Oscars' big prize no doubt helped push folks to give these movies a try. Encouraging audiences to seek out challenging fare can never be a bad thing.
2. They raised awareness for worthwhile social and political issues.

The Best Documentary nominees often cover a vast array of important topics, and this year's crop was no different, whether it was relations between Israel and Palestine ("The Gatekeepers," "5 Broken Cameras"), sexual assault within the U.S. military ("The Invisible War"), or the history of the AIDS-awareness organization ACT UP ("How to Survive a Plague"). But even the Best Picture field had its share of meaningful films, including "Amour," which is an unsentimental look at aging and mortality. Perhaps the most important discussion prompted by any Oscar film this year, though, came from "Zero Dark Thirty," a sobering, absorbing examination of the U.S. government's 10-year pursuit of Osama bin Laden. Director Kathryn Bigelow's thriller raised complaints from some, including a few U.S. senators, that the movie celebrated the use of torture — or suggested that it was an effective tool for hunting down terrorists. The debate may have ultimately been more about political posturing, but at least it opened a wider discussion about U.S. policy in the aftermath of 9/11 than any film had been able to do before. (And for the record, anyone who watches "Zero Dark Thirty" will see that the movie is far more nuanced and ambiguous in its commentary than its critics will acknowledge.)
3. They provoked some memorable social-media moments.

Because the Oscar campaigning goes on so long, there are inevitably unexpected side effects. For instance, the creation of memes that are very funny at the moment by may not have a long shelf life. (Angelina Jolie's Leg was good for some chuckles a year ago. But now?) This year had its share of parodies and homages, their effectiveness very much a question of personal taste. Plenty of friends love the fake Michael Haneke Twitter account where the austere Austrian filmmaker is turned into a cat-loving, spellcheck-deficient goofball. (Me, I think it's just the same joke repeated over and over again.) And then there was the parody of Anne Hathaway's "I Dreamed a Dream" performance from "Les Miserables." But my favorite is probably from comedian Paul F. Tompkins, who took to the stage of Largo in Los Angeles in December to perform an utterly sincere rendition of Adele's "Skyfall" theme. Soon, it hit YouTube, becoming a viral hit. The comedian's "Skyfall" rendition represented the best of pop cultural referencing, honoring what made the original so fantastic while adding a new, fun dimension to it.
4. They actually had a little suspense.
In the early months of award season, there's always a little uncertainty about who the frontrunners might be, but eventually the clear-cut favorites assert themselves, and by the time of the actual ceremony, everybody knows who's going to win Best Picture and most of the major categories. This year, that didn't happen, as "Les Miserables," "Lincoln," "Zero Dark Thirty," "Argo" and even "The Master" were discussed as being possible winners at one point or another. This, of course, is great news for Oscar bloggers and other awards handicappers who want to keep us interested, but for those of us who actually like the Academy Awards telecast, it also created a lot of suspense. That doesn't happen that often. Their value isn't in telling us what's the best
5. They'll never replace your own preferences for the year's best films.
From your perspective, any collection of individuals voting on the best anything will ultimately fail to get it right unless they completely agree with you. That's why I've never understood getting that annoyed with the Oscars (or the Independent Spirit Awards or the Golden Globes) when they don't line up with your individual tastes. If nothing else, the Academy Awards are a way to make each of us consider what constitutes the greatest films and the greatest performances. The Oscars can have their definition — we each have our own.
You can follow Tim Grierson on Twitter.