Kelly McGillis looks back at the legacy of "Top Gun"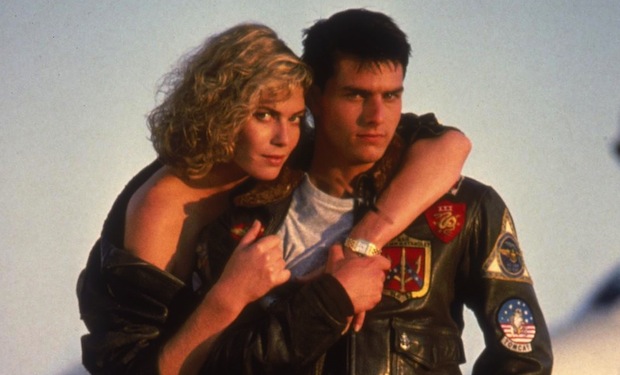 Posted by Terri Schwartz on
"Top Gun" might be getting old, but Paramount Picture is making sure the movie looks better than ever. On February 19, a newly remastered 3D Blu-ray re-release of the film is hitting store shelves following a six-day theatrical run in IMAX 3D theaters.
In anticipation of "Top Gun" being introduced to a new generation of audiences, leading lady Kelly McGillis chatted on the phone with IFC about the impact the movie has had on her life. She surprisingly hasn't seen the flick since it came out, but because of its lasting legacy it still affects her in many ways.
IFC: Hi, Kelly. It must be a little surreal for you talking about "Top Gun" all day. I can't believe it's been almost 27 years since it came out.
KELLY MCGILLIS: Yeah, I can't either. It's a little bit challenging because I haven't seen the film since it first came out, so good luck. [laughs]
IFC: So you haven't seen it in 3D, then? They just converted it.
KM: No, I haven't. I haven't seen the film since it's been done.
IFC: Oh, wow. Obviously this is a film that's lasted well over the years. What's the experience been like having that legacy attached to you?
KM: It's wonderful. I didn't know while making the movie that it would have such legs, and I think it's wonderful and I think it's a testament to Tony Scott's vision, I really do. And I think it's just a testament truly to the innocence of the movie. The good guy/bad guy kind of thing; very pre-9/11. Nothing sinister about it. I'm amazed, actually. I'm amazed that it lasted this long.
IFC: That innocence, is that the main reason you think it's had such a great legacy or do you think there's anything else to it that helps it still resonate with people?
KM: I think the style of the piece and the music. It sort of encapsulated the '80s, what the '80s were all about. I think that a lot of people of my age kind of really remember that time fondly. It will be interesting to see what a whole new generation of people think about that movie.
IFC: I definitely think it's interesting that the movie is still such a part of our pop culture now. Looking back, are there any specific moments in the movie that you would be interested in seeing in 3D, or that you look forward to other people seeing?
KM: Oh no, I can't think of any. Sorry. [laughs]
IFC: I haven't seen it in 3D yet, but I'm intrigued by how the aerial scenes will look.
KM: Yeah, I think those will be really fun in 3D. I think that would be really fun.
IFC: I know the sequel isn't happening but that it had been discussed in the past. Was there any talk of you coming back for that?
KM: No.
IFC: You recently showed "We Are What We Are" at Sundance. Can you talk a little bit about your involvement in that movie? People seemed to respond well to it in reviews and say that it was a refreshing take on the horror genre.
KM: I had worked with Jim Mickle before and he had called me and wanted me to come up and do this little part Marge, and I adored working with Jim when I did "Stake Land" with him, so I said, "Sure." I kind of left it open to him that any time he wanted me to do anything I'd do it for him, so he called me and I went and did it and it was really fun. I love working with Jim. So that's why I did it. It's kind of a funny little part in the middle of this very dark movie. I hope that she's a little bit of a comic relief.
IFC: Can you talk a bit about what your life has been like since you filmed "Top Gun"? What is the impact the movie has had on your life?
KM: The impact the movie had on my life was that I became a household name and I became very recognizable, and that was very overwhelming for me, because that's not something I've ever striven to be. I don't like fame for fame's sake and it's not something I ever aspired for, and that's very overwhelming for me. That being said, it did also give me the opportunity to go off and do more artsy kind of stuff. I did a lot of theater, and I think that it gave me the opportunity, monetarily, to be able to do those kinds of things that I like and I enjoy and are challenging for me.
In the last kind of 12 years or so I've really been focused on raising a family and, now that my kids are grown up and out of the house, I'm trying to put my toes in the water to see if I can go back to work, but I also love my quiet little life. I'm happy to dabble working here and there. I'm really happy to do that and then live my life.
IFC: Is there anything in particular that you'd like to try and do going forward?
KM: To me, now, it's no longer about making my living. To me, it's just about doing things that I think are fun for whatever reason, because if it's not going to be fun for me I don't need to be leaving my house. I like my life too much today and I only want to work with people who are fun to work with.
IFC: I'm also curious, have you kept up with the "Top Gun" cast at all? I saw some really cute pictures of you and Tom Cruise at the "Prince of Persia" premiere a couple of years ago.
KM: Not really. If I run into people, I say, "Hey." It's not like any time has passed. But I don't really keep in touch with any people that I've worked with. I think it's a very unique situation that brings a lot of people from their lives in to do a movie, you do the movie, and after that you go home and you live your life. It's not like you have any common thread going through other than your acting, and once that's done, I don't really have much in common with people, I've found. It's not that I don't like hanging out with people, but I never lived in really L.A., I've never kind of been in the middle of all of that stuff, and I'm very happy that I haven't been.
IFC: You mentioned how this Blu-ray release is going to introduce "Top Gun" to a new generation. What do you hope they take away from it?
KM: I think if they just don't see too much into it, that it's a fun film. It's pure entertainment. There's nothing more to read into it. There's no huge deep subtext to the movie. It's just a fun movie. That's it.
What impact has "Top Gun" had on you over the years? Tell us in the comments section below or on Facebook and Twitter.