"Iron Man 3" images show off a beaten Tony Stark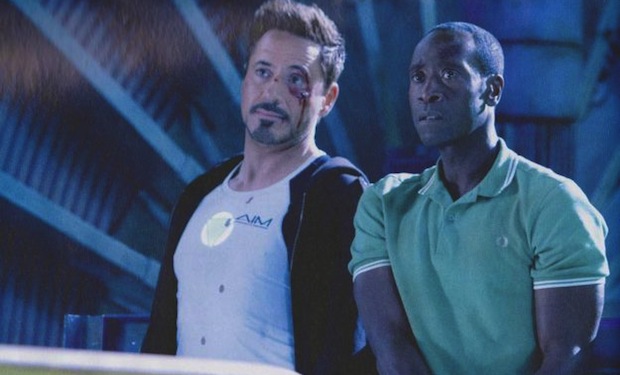 Posted by Terri Schwartz on
Another day, another slew of new images released from "Iron Man 3." Instead of being a poster, this latest batch is full of Empire magazine scans taken by SuperHeroHype. They come replete with new looks at Guy Pearce, Gwyneth Paltrow, Robert Downey Jr. and Don Cheadle, and even tease the inclusion of A.I.M. in the new movie.
Noticeably absent from this lineup is Ben Kingsley as The Mandarin. He is a character we are very, very intrigued by, and Kingsley told the magazine that the villain definitely goes off the deep end.
"A pastiche of American iconography. It's there to confuse – you don't know what's coming next. Shane allowed me to push the boundaries of the role so that I'm allow to go a bit bonkers," he said, via ComicBookMovie.com.
"Iron Man 3" is based on Warren Ellis' "Iron Man" comic book series "Extremis." The flick is directed by Shane Black and also stars Robert Downey Jr., Gwyneth Paltrow, Don Cheadle, Guy Pearce, Rebecca Hall, Jon Favreau, Wang Xueqi and Ben Kingsley.
Pearce's Aldrich Killian looks to be the movie's big bad as a co-creator of the Extremis serum, which creates a new breed of supersoldier. He and partner Maya Hansen, played by Hall, opt to place the serum in the hands of terrorists and set them up against Iron Man in order to prove the strength of Extremis. "Iron Man 3" will hit theaters on May 3, 2013.
What do you think of these new images? Tell us in the comments section below or on Facebook and Twitter.