Harrison Ford will reportedly return as Han Solo in future "Star Wars" films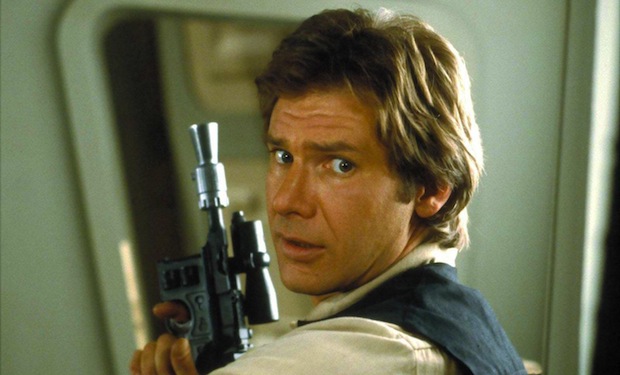 Posted by Terri Schwartz on
It might not be official, but it's pretty darn close to it: Harrison Ford has reportedly signed on to return as Han Solo in the new "Star Wars" films.
Latino Review broke the scoop, and though the headline for their story about it says that he'll be back in "Episode VII," that hasn't been confirmed by Disney yet. Still El Mayimbe's sources seem absolutely sure that Ford has signed a deal to reprise his role as Han Solo.
Though pretty much every previous "Star Wars" actor has expressed interest in reprising their roles in the new movies — both the sequel trilogy and the confirmed spinoffs — Ford was an early supporter of the films. A source said back in November that he "is open to the idea of doing the movie and he's upbeat about it."
Also seemingly on board are Carrie Fisher and Mark Hamill, though there hasn't been any confirmation of their involvement beyond that initial rumor. At the time, it was said that Ford wouldn't sign any contracts "until there's a script and a director in place," and "either could be a deal breaker."
Well, now Michael Arndt is writing the "Episode VII" script and J.J. Abrams is confirmed as the movie's director, so Ford likely decided that that was as good a package as he could hope for. His involvement seems to confirm that "Episode VII" will take place about as long after "Return of the Jedi" as "A New Hope" did after "Revenge of the Sith."
Again, this isn't confirmed by Disney, but it does seem very likely. Hopefully an official announcement will be sent out soon, and we'll find out more about what Arndt is planning for the sequel trilogy. There's also a chance Ford could be involved in a Han Solo origin movie, if that is one of the spinoffs like many fans hope.
"Star Wars: Episode VII" is expected out on 2015.
Do you want to see Ford in "Star Wars: Episode VII"? Tell us in the comments section below or on Facebook and Twitter.