Fred Armisen voices Terry in a new clip from "Out There"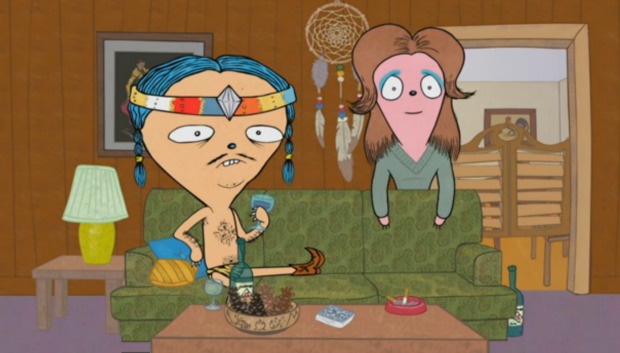 Posted by Melissa Locker on
As you may have heard, our new animated series "Out There" premieres February 22 at 10:30/9:30c. The show chronicles the coming-of-age misadventures of socially awkward Chad (Ryan Quincy), his little brother Jay (Kate Micucci) and his best friend, Chris (Justin Roiland). They all live in the small town of Holford, where they are just waiting out their last few years of adolescence hoping that nothing permanently scarring or too too humiliating happens. It's something we can all relate to.
During the show we meet Chad's conservative parents, Wayne (John DiMaggio) and Rose (Megan Mullally) and the object of Chad's affection, Sharla (Freaks & Geeks' Linda Cardellini). We also meet Chris's single mother, Joanie (who is voiced by Pamela Adlon), who has a disastrous boyfriend, Terry (voiced by Portlandia's own Fred Armisen). In this new clip from "Out There" we find out that Terry has learned a brand-new card trick and he really wants to show it to Chris whether he wants to see it or not.
Watch now and be sure to tune in for the premiere on Friday Feb. 22nd right after Portlandia:
video player loading
.
.
.
Want the latest news from Out There? Like them on Facebook and follow them on Twitter @IFCouthere.
"Out There" premieres on IFC on February 22 at 10:30/9:30c