Fred Armisen and 50 Cent team up for "Zero Dark Fiddy"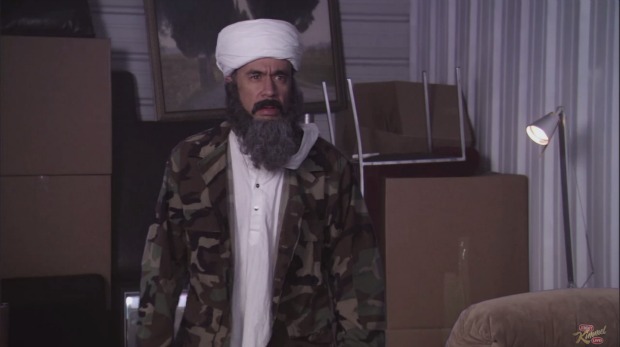 Posted by Melissa Locker on
Fred Armisen and 50 Cent star in "Zero Dark Fiddy."
There's no doubt that Katheryn Bigelow's "Zero Dark Thirty" was a fantastic film filled with stirring performances by Jessica Chastain, Chris Pratt, Kyle Chandler and everyone else. There's no doubt that the film deserves all the accolades it's been receiving. However one thing that everyone (even Congress!) can agree on about "Zero Dark Thirty" is this: It's not very funny. In fact, we may not have LOL'd even once.
Luckily Jimmy Kimmel set out to fix that with "Zero Dark Fiddy" starring rapper 50 Cent (despite what you might have heard, that's "Fifty" not "Fiddy") as a Marine on a mission determined to find Osama Bin Laden who is played by Portlandia's very own Fred Armisen. 50 Cent heads out armed only with the intel of a pumpkin spice latte delivery and a pair of lethal gun-chucks. It's a fight to the finish with more than a few laughs, which is more than we can say about "Zero Dark Thirty"
Watch the video and be sure to tune in for the "Portlandia" season finale on Friday at 10/9c:
Want the latest news from Portlandia? Like them on Facebook and follow them on Twitter@IFCportlandia and use the hashtag #portlandia.
Portlandia's season finale airs on IFC on Friday at 10/9c