Fox reveals "Die Hard" 25th anniversary mural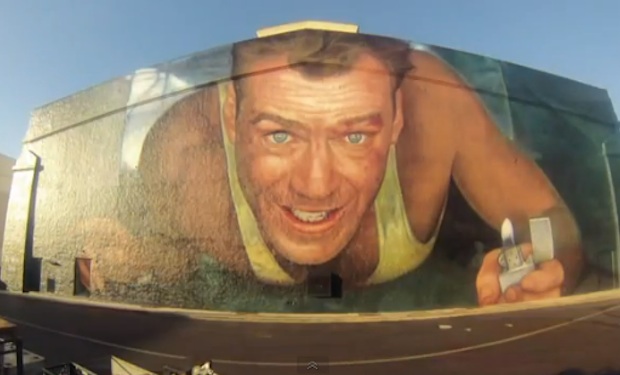 Posted by Terri Schwartz on
For being a 25-year-old franchise, "Die Hard" looks pretty good for its age. The fifth entry in the series, "A Good Day to Die Hard," hits theaters on Valentine's Day, but that wasn't enough of an anniversary gift for 20th Century Fox. No, the studio decided to go one step further: Paint a giant mural of a young Bruce Willis in Fox's Los Angeles lot.
You can watch the timelapse video above that shows the creation of the massive mural. It depicts a famous scene from the first "Die Hard," which came out in 1988. It's hard to think that more than two decades have passed since that movie hit theaters, but Willis remains just as badass when he utters, "Yippee-ki-yay."
Fox is also marking the 25th anniversary of the "Die Hard" franchise — and the release of the new movie — with a marathon of the first four films on February 13. Select theaters are participating in the screenings of "Die Hard," "Die Hard 2," "Die Hard With a Vengeance" and "Live Free or Die Hard."
"A Good Day to Die Hard" takes Bruce Willis' McClane from Jersey to Russia, where he teams up with his son Jack, played by Jai Courtney. Also appearing in this movie are Mary Elizabeth Winstead, Cole Hauser and Sebastian Koch. The film is due out on February 14.
What do you think of the new mural? How will you celebrate "Die Hard's" 25th anniversary? Tell us in the comments section below or on Facebook and Twitter.