"Fast & Furious Six" debuts new poster and Super Bowl TV spot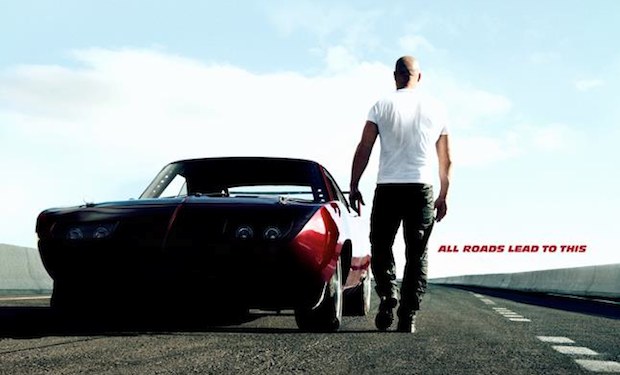 Posted by Terri Schwartz on
The newest "Fast and the Furious" movie, "Fast & Furious 6," is going to feature more cars, more ladies and way more of The Rock. A special testosterone-filled TV spot and official poster were released for the film just in time for the Super Bowl, and they show exactly what we expect (and hope) from an installment in this franchise.
The minute-long TV spot debuted during football's big day, and star Vin Diesel revealed the poster — which can be viewed in full below — on his Facebook page. Both tout the tagline, "All roads lead to this," but our guess is those same roads will lead to future sequels as well.
Featured in the trailer are many recurring "Fast" faces including Diesel, Paul Walker, Jordana Brewster, Ludacris, Dwayne Johnson, Tyrese Gibson, and the big reveal, Michelle Rodriguez. Luke Evans and Gina Carano mark new additions to the cast, and "Fast & Furious 6" looks to feature the biggest ensemble of the series.
Director Justin Lin reprises his role at the helm of the franchise after also directing "The Fast and the Furious: Tokyo Drift," "Fast & Furious" and "Fast Five." The movie picks up after the events of "Fast Five," and it looks to be just as fun as its predecessor. For a great take on why the "Fast and the Furious" movies are still relevant, check out Pulitzer Prize winner Wesley Morris' 2011 article on the franchise, "Fast Forward."
"Fast & Furious 6" is due out on May 24. Here's it's official synopsis:
Since Dom (Diesel) and Brian's (Walker) Rio heist toppled a kingpin's empire and left their crew with $100 million, our heroes have scattered across the globe. But their inability to return home and living forever on the lam have left their lives incomplete. Meanwhile, Hobbs (Johnson) has been tracking an organization of lethally skilled mercenary drivers across 12 countries, whose mastermind (Evans) is aided by a ruthless second-in-command revealed to be the love Dom thought was dead, Letty (Rodriguez). The only way to stop the criminal outfit is to outmatch them at street level, so Hobbs asks Dom to assemble his elite team in London. Payment? Full pardons for all of them so they can return home and make their families whole again.
Are you looking forward to this movie? Tell us in the comments section below or on Facebook and Twitter.