Exclusive Premiere: Big Harp "You Can't Save 'Em All"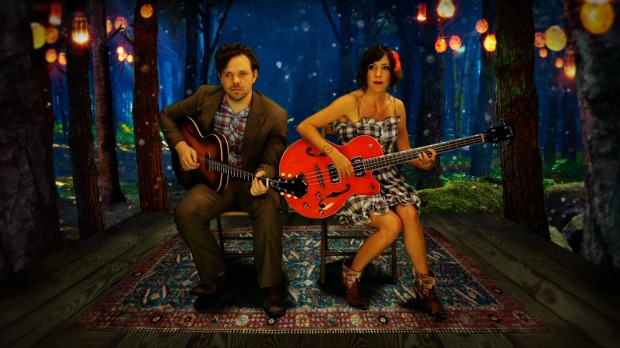 Posted by Melissa Locker on
When Big Harp first formed, Chris Senseney and Stefanie Drootin-Senseney had already had a baby together. Then they had another baby. And then they finally started playing music together. Only after they recorded their Saddle Creek debut, White Hat, did they start playing gigs. That means when Big Harp goes on tour to support their sophomore album, Chain Letters, they'll have two car seats tucked into the minivan and the world's cutest roadies in tow. It's all fairly backwards from the usual path of bands, but seems completely appropriate for Big Harp, a band built on abstruse textures and darkly winsome lyrics combined with a wholesome folksiness.
Chris provides lead vocals and guitar, while Stefanie, who has played with She & Him and Bright Eyes, plays bass. Together they make low-key rock with a faintly folksy edge, reminiscent of M. Ward or Townes Van Zandt, but with a twinkle in their eye that comes through in their melancholic yet humorous lyrics. Chain Letters, which follows in the footsteps of the duo's debut White Hat, which was recorded partly at Omaha's ARC studios and partly at the band's home, finds Big Harp moving towards more fuzzed out sounds, building on layers of distorted bass to craft rock songs out of their rustic roots. It's a forward thinking album, from a band that did everything backwards.
Watch the video for Big Harp "You Can't Save 'Em All" now (directed by Kim Hager) and pick up their new album, Chain Letters, out now on Saddle Creek.
video player loading
.
.
.
Want the latest news from IFC? Like us on Facebook and follow us on Twitter @ifctv.