Clea DuVall talks "Argo", Ben Affleck, and her favorite project ever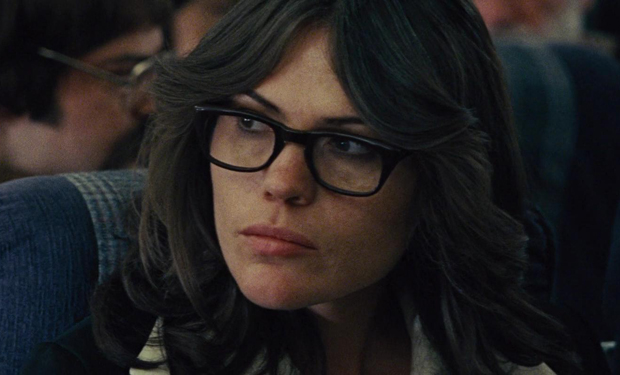 Posted by Scott Neumyer on
If you don't immediately recognize the name Clea DuVall, it's not for lack of a lengthy roster of popular film and television appearances on her resume. She's had parts in everything from "Can't Hardly Wait" and "The Faculty" to "Girl, Interrupted" and "Zodiac". It's just that she's not often been at the forefront of those films. DuVall has existed as the sharp, talented character actor that, when you see her, you think, "I've seen her before!" That dynamic, however, may be about to change. After excellent performances in 2012's "Argo" (available on Blu-ray and DVD February 19), the young actress is poised to become one of Hollywood's hottest properties.
DuVall recently sat down with IFC.com to discuss working with Ben Affleck, holing up with six other actors, and what's next for her.
IFC: "Argo" is a great film and, I think, rightfully deserves all the awards it's receiving. Can you tell me how you got involved in the film?
CLEA DUVALL: I had known Ben [Affleck] for a really long time and about a year-and-a-half ago we saw each other. He said, "I'm making this movie and there's a part I think you'd be really good for. You should come in and talk to me about it." A few weeks later, I went in and met with Ben and [casting director] Lora Kennedy. He told me about the movie and what would be required of us, which was to live in a house together for a week with nothing from the outside world, and also a lot of improv and things like that. Of course I was like, "Totally!" And then I felt really afraid. [Laughs]
IFC: Were you nervous about taking on such a heavy subject or were those nerves calmed a little because you had already known Ben?
CD: I was definitely nervous, especially because he was asking us to improvise around Iranian politics in 1979. It can be a little daunting, but all it meant is that we really had to know our shit and do the work. I was really excited for the challenge because you don't always get that kind of opportunity in a film to go that deep.
IFC: You and I were both really young when this whole real-life situation was happening. Did you do a lot of research into the conflict, and the story of these hostages, to prepare for the role?
CD: I did, yeah. I read a lot of books about it and, for each of us, they put together a research packet detailing the people we were playing. I was fortunate enough, as well, to speak with Cora before we started filming, so I was able to sort of pick her brain and see what it was like for her. More the day-to-day of it rather than the high-intensity drama. That was really, really helpful.
IFC: You have this great part in the film that actually feels a lot like an ensemble – the six of you holed up in this house. Tell me a little bit about the dynamic that the six of you had together.
CD: I think Ben was so smart to have us all live together because it really did give the effect that he wanted, which was that we were all people that knew each other very intimately because, by that time, we actually did. We all kind of moved around as this unit. The six of us were always keeping tabs on each other. We were very aware of each other and, I think, that was very important, especially when we got into the scenes that we shot at the bazaar for the location scouting.
You have these people who have been inside for three months terrified for their lives and then, all of a sudden, are thrust into this environment with thousands and thousands of people who, ultimately, want them dead. Creating the authenticity of that experience and having these people around was a little bit of a security blanket effect. It was such a brilliant idea that Ben had. I don't think that we would have started day one with that dynamic had we not done that.
IFC: Do you think it helped, as well, to create this really claustrophobic, enclosed feeling of those scenes?
CD: Yeah, absolutely. And that cabin fever, stir crazy, high tension feeling was heightened by the experience. It helped to add very subtle layers to all of it. It subconsciously gave us these layers that we definitely would not have had otherwise.
IFC: How was it working with Ben, as he was both directing and starring in the film?
CD: He was amazing. I really was so impressed with how he handled it. I've worked with a couple other director/actors who did not handle it with the ease and grace with which he does.
IFC: Are you surprised that he didn't get the Oscar nomination or is that just sort of par for the course with these types of things?
CD: I was definitely surprised, as everyone else was, but I also think that Ben is the real thing. He's an amazing filmmaker and he's probably going to run out of shelf space with all of the awards he's going to get. I'm sure he'll have a very long directing career, so I'm not worried about him.
IFC: You've done a good amount of TV in the past as well. Do you prefer one medium to the other?
CD: No, not really. I did a show for HBO called "Carnivale" and that was my favorite job I've ever had, and what I liked about it was being able to build the character and have her change and evolve.
I think I've been really fortunate in the TV that I have done to be able to really explore a character in a way that you can't really do in film. But I also like film because it is this short window of time and the appreciation for that time is heightened because you know it's going to end. Your pace is different as an actor working in film rather than TV.
IFC: What's next for you? I see you have "In Security" coming up. Can you tell me a bit about that film?
CD: That is a little independent film that I was shooting on the weekends while I was making "Argo". It's just this cute little movie. I don't really know what's happening with it right now. I think they're trying to go to festivals with it. The indie film world is tough.
I've also been working on some behind-the-camera things that I don't really want to talk about just yet, but it's looking very promising.
Otherwise, I don't know. Hopefully something amazing.
IFC: What is the one project in your career that you wish had gotten more recognition or attention?
CD: "Carnivale", for sure. I think it was just a little bit ahead of its time. I think if it was on now, people would love it. It was the one of the first of what basically ever cable show is now. It was really interesting and different and people couldn't handle it.
"Argo" arrives on Blu-ray and DVD February 19.