Chris cries for his mommy in this clip from "Out There"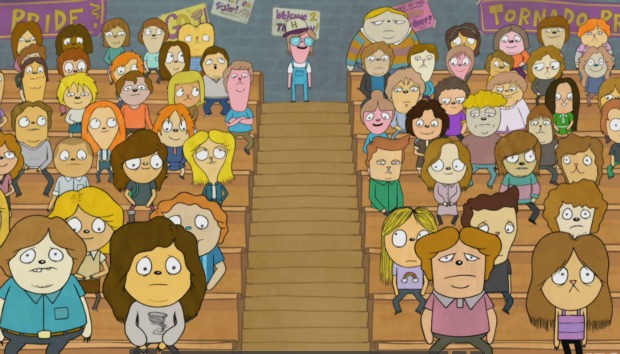 Posted by Melissa Locker on
There are many rules in high school. Some of them are spoken: Don't cut gym, don't chew gum in French class and don't shove anyone in your locker (or their locker). But as anyone who has survived freshman year knows, high school is full of a lot of unspoken rules too. Rules like don't sit at the wrong table at lunch, don't try for Varsity girls when you're barely JV and never ever tick off a senior. But the number one unspoken rule in high school is try to make it out a live without embarrassing yourself. Chris and Chad, the stars of our new animated series "Out There," are just trying to get through adolescence without humiliating themselves too much, but sometimes plans go awry. In this clip, we see Chris make a memorable moment even more memorable when he cries for his mommy in front of an entire high school assembly. Just remember, Chris: No one gets out of high school unscathed.
Watch this clip from "Out There" and be sure to tune in for a new episode on Friday at 10:30/9:30c:
video player loading
.
.
.
Want the latest news from Out There? Like them on Facebook and follow them on Twitter @IFCouthere.
"Out There" premieres on IFC on February 22 at 10:30/9:30c