Chad faints during sex ed in a new clip from "Out There," airing tonight at 10:30/9:30c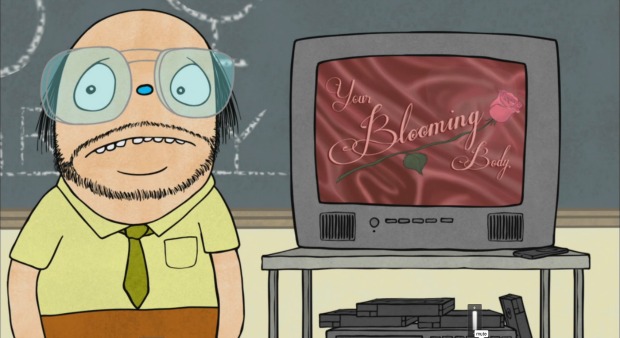 Posted by Melissa Locker on
We've all been there. Sitting in health class while your erstwhile gym teacher tries to teach you about the birds and the bees in the least (read : most) embarrassing way possible. We've all suffered through that awkward rite of high school passage. We've all been there and some of us have fared better than others. In this new clip from our animated series "Out There," we get to watch as Chad does his best to face the horror of sex ed. And as it turns out learning about the female reproductive system at school proves to be a little too stressful for Chad.
And just in case you think passing out at the mention of lady bits is far fetched, here's a clip of "Out There" creator Ryan Quincy discussing his real life Sex Ed fainting incident.
Watch this clip and be sure to tune in to a new episode of "Out There" on Friday at 10:30/9:30c after the season finale of "Portlandia":
video player loading
.
.
.
Want the latest news from Out There? Like them on Facebook and follow them on Twitter @IFCouthere.
"Out There" airs on IFC on Fridays at 10:30/9:30c