Between Two Ferns with Zach Galifianakis is back with Jennifer Lawrence, Anne Hathaway, Christoph Waltz and more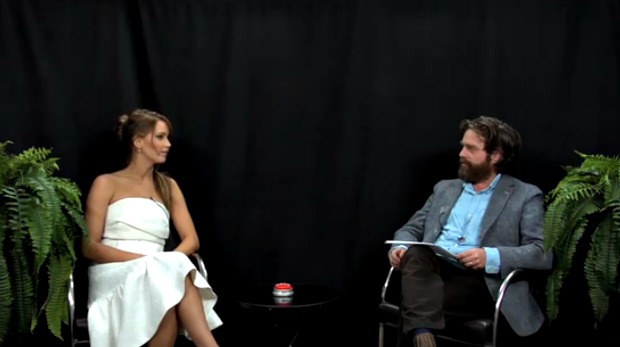 Posted by Melissa Locker on
Zach Galifianakis is back in a brand new Oscar-themed episode of Between Two Ferns that sees him sitting down with Oscar nominees Jennifer Lawrence, Naomi Watts, Christoph Waltz, Anne Hathaway and Amy Adams.
Since this is Zach Galifianakies and not Barbara Walters, the interview questions tend towards the strange and fantastical instead of, say, incredibly well-researched and insightful. For example, he asks Watts, "When you're in a movie, do they shrink you down so you can fit into the camera?" We all want to know the answer to that question, but few would have the gumption to ask. Similarly, when Galifianakis asks Waltz: "Have you ever thought about changing your name to Christoph Breakdance?" You have to watch the video to find out.
It's only part one of the Between Two Ferns Oscar buzz extravaganza and fittingly features what may be the best cliffhanger ever: "Don't you ever fart on my tits again." You got it, Zach. Part Two of the episode will be posted soon on FunnyorDie.com.
Watch Between Two Ferns with Zach Galifianakis now and when you're done, go watch Zach talk about gerbils with Scott Aukerman:
Want the latest news from IFC? Like us on Facebook and follow us on Twitter @ifctv.