AMC's "Comic Book Men" season 2 marathon airs on IFC this Saturday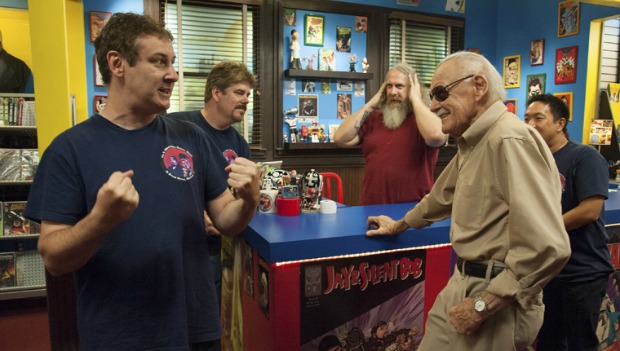 Posted by Melissa Locker on
Being AMC's sibling is pretty sweet. Not only do we get to cheer on "Breaking Bad" and "Mad Men" at all the awards show, but sometimes our big sister network let's us do awesome things like air a marathon of Kevin Smith's "Comic Book Men." The show follows all the action at "Clerks" director Kevin Smith's comic book shop, Jay and Silent Bob's Secret Stash, in Red Bank, NJ. If you need to catch up on Season 2 of Comic Book Men before Kevin Smith and the guys from the Secret Stash return on Thursday, Feb. 14, then you're in luck: This Saturday, Feb. 9, we will be airing all eight episodes from the first half of Season 2 back-to-back beginning at 1:30pm/12:30c.
Click here to see the full Comic Book Men Season 2 marathon schedule on IFC, as well as to find IFC on your TV in your area.
Watch as comic book legend Stan Lee stops by Jay and Silent Bob's Secret Stash during season two of "Comic Book Men" and be sure to tune into our marathon on Sunday at 1:30/12:30c:
Want the latest news from IFC? Like us on Facebook and follow us on Twitter @ifctv.
"Comic Book Men" returns to AMC on Thursday, Feb. 14 at 9/8c as part of AMC Real Original Thursdays.