Always Off: Portlandia's Mayor Kyle Maclachlan does the Harlem Shake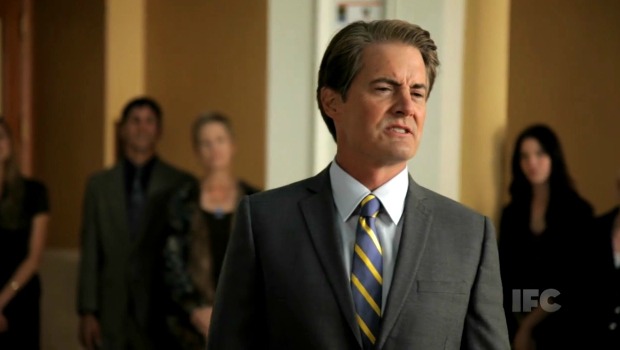 Posted by Melissa Locker on
There's a new meme making its way around the internet and it involves dancing. No, it's not dancing alone to Pony, but dancing alone at first and then with a huge crowd all to the beat of Brooklyn producer Baauer's "Harlem Shake." The craze began with a video posted by YouTube personality Filthy Frank, which starts with one or two people dancing in place to the insanely catchy song and then 15 seconds or so in, some quick edits make the video fill up with groups of people breaking out in weirdly wild dancing for the remaining 15 seconds. The meme only started a few weeks ago (Feb. 2nd to be precise) and it's already hitting the big time with Jimmy Fallon, Ryan Seacrest, Stephen Colbert, Jon Stewart and indie band Matt and Kim have all contributed to the burgeoning canon of the Harlem Shake.
Our favorite iteration of the dance though, stars Portlandia's very own mayor Kyle Maclachlan reviving another of our favorite roles: That of a denizen of a town called Twin Peaks. Watch and be amazed and be sure to tune in tonight for a new episode of Portlandia at 10/9c:
Want the latest news from Portlandia? Like them on Facebook and follow them on Twitter@IFCportlandia and use the hashtag #portlandia.
Portlandia airs on IFC on Fridays at 10/9c