10 great "Lethal Weapon" movie moments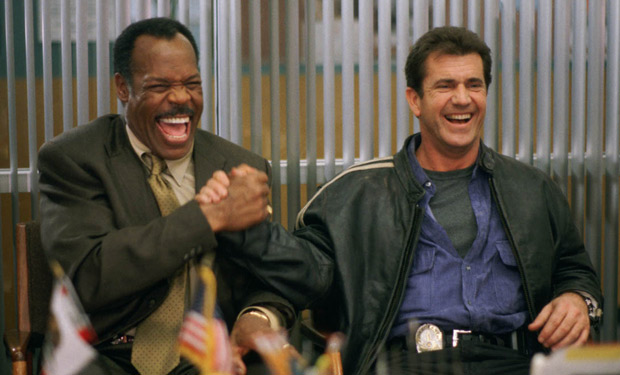 Posted by Andy Hunsaker on
Oh, Mel Gibson. How much do we miss the days when we could like you without reservation? These days, the anger/drink/evil issues make it hard to care about what you do anymore, but in the halcyon days of yore, you were a blast to watch. Sure, "Mad Max" made you famous, but it was Richard Donner's high-octane "Lethal Weapon" series that made us love you. Since it was before you went crazy, we're still allowed to like watching you just playing crazy as Martin Riggs, the suicidal cop on the edge who makes "too old for this shit" cop Roger Murtaugh's life a lot more dangerous. While IFC is showing all four of the "Lethal Weapon" movies in February, here are 10 funny moments from the whole franchise to remind you why you should watch them.
---
1. THE DRUG BUST
Riggs is nuts. How do we know he's nuts? Because he tries to pay for a massive truckload of cocaine with a hundred dollars, and then begs all his brothers in blue to fire at will even though he's sure to be caught in the crossfire. This fairly well establishes the aforementioned nutsness of Martin Riggs in the first and most intense "Lethal Weapon."
---
2. MURTAUGH MEETS RIGGS
Roger Murtaugh is a veteran cop dealing with burnout and feeling like he's aging out of the job. Plus, he's dealing with the strange case of Amanda Hunsaker (and on a personal note, this is one of the very few films to actually use my last name, and I dig that about it) and he really doesn't want to have to break in a new partner. When that partner turns out to be the scruffy ruffian Riggs, it does the opposite of making his day.
---
3. THE JUMP
How do you talk a guy off the ledge? Well, you sure as hell don't sent Martin Riggs to do it, even if he does get the job done with a disturbing efficiency. Of course, he doesn't really do it by talking. He joins the guy in the jump. Because that's how he rolls.
---
4. GARY BUSEY HATES CHRISTMAS
Oh yeah, that's right, perhaps the only guy crazier than Mel Gibson is also in this movie – Mr. Busey himself plays Mr. Joshua, the right hand man of Mitchell Ryan's creepy bad guy. When Mr. Joshua stalks Murtaugh's home and finds a television playing a Christmas special, the outburst is pure Busey.
---
5. THE TOILET BOMB
In "Lethal Weapon 2," we get perhaps the most intense scene that can be created around a guy taking a crap. It turns out somebody had bombed Murtaugh's toilet, and thus he's in the extremely humiliating position of dealing with the bomb squad with his pants around his ankles. This is the kind of thing nobody would ever live down.