Will January Jones return in "X-Men: Days of Future Past"?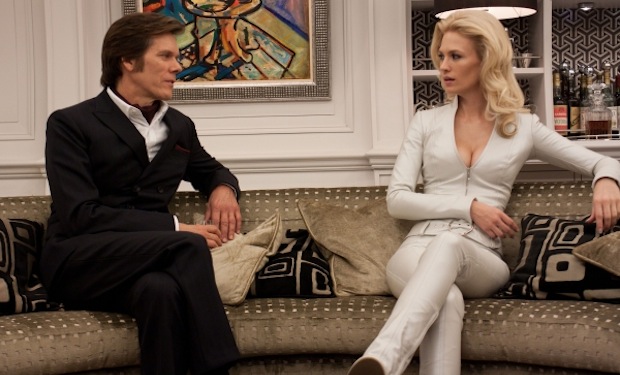 Posted by Terri Schwartz on
A lot of the original generation are returning in "X-Men: Days of Future Past," but what about the new one? January Jones is someone we haven't heard about in connection to the upcoming film, and that's for a good reason.
"I don't know that I'm in it, I don't think Emma's in this one. Well they haven't told me if I am," she told Collider. "I wouldn't put [having me in it] past them though, I got the script for the first one on the airplane on the way there."
So why does she think Emma won't be in it? Well, to hear her explain it, it's because "Days of Future Past" will focus primarily on the relationship between Magneto and Charles Xavier.
"I think it's more about James [McAvoy] and Michael [Fassbender] and then Patrick [Stewart] and Ian [McKellen], and I think it's gonna go back and forth with those so I don't think Emma's in those bits," she said. "I don't know, I really don't know."
Those who are returning? At least McAvoy, Fassbender, Jennifer Lawrence, Nicholas Hoult, Stewart, McKellen and Hugh Jackman. That seems solid enough for us, though hopefully some new actors will be brought on board as well.
"X-Men: Days of Future Past" is due in theaters on July 18, 2014. The official plot synopsis says "the storyline alternates between present day, in which the X-Men fight Mystique's Brotherhood of Evil Mutants, and a future timeline caused by the X-Men's failure to prevent the Brotherhood from assassinating Senator Robert Kelly. In this future universe, Sentinels rule the United States, and mutants live in internment camps. The present-day X-Men are forewarned of the possible future by a future version of their teammate Kitty Pryde, whose mind traveled back in time and possessed her younger self to warn the X-Men."
Would you like to see Jones brought back? Tell us in the comments section below or on Facebook and Twitter.