Watch a sneak peek of "Out There" tonight at 10:30/9:30c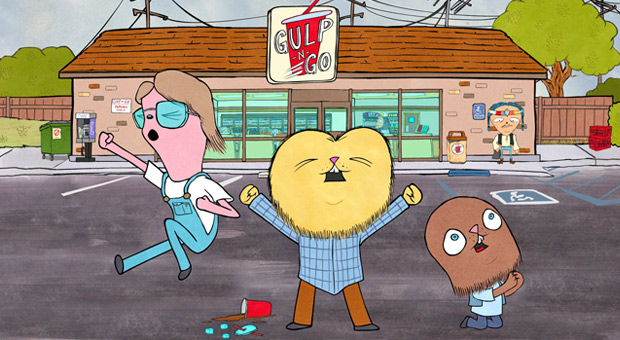 Posted by Melissa Locker on
After you watch a brand new episode of Portlandia tonight, stay tuned for a sneak peek of our new animated series "Out There" at 10:30 p.m. ET. When you watch "Out There" you'll meet Chad Stevens — a 15-year-old boy existing in the small town of Holford. He's a loner and doesn't seem to fit in anywhere– until he meets fellow outcast Chris, that is. Chris hates Holford and is planning his escape, and he enlists kindred spirit Chad to help.
With the vocal talents of Ryan Quincy, Fred Armisen, Megan Mullally, Pamela Adlon, Linda Cardellini and more, IFC's original series, "Out There" chronicles the coming-of-age misadventures of socially awkward Chad (Ryan Quincy), his little brother Jay (Kate Micucci) and his best friend, Chris (Justin Roiland). Living in the small town of Holford, the boys wander its surreal, bleak landscape waiting out their last few years of adolescence. Along the way, viewers meet Chad's conservative parents, Wayne (John DiMaggio) and Rose (Megan Mullally), as well as Chris's single mother, Joanie (Pamela Adlon) and her disastrous boyfriend, Terry (Fred Armisen). They also meet the object of Chad's affection, Sharla (Linda Cardellini). (Head over to our gallery of characters to match pictures to voices.) "Out There" confronts these perils of youth and explores that terrifying limbo between childhood and adulthood when fragile young personalities form and deform. Relive the agony and ecstasy of those special times as Chad and Chris try to navigate life… out there.
Want the latest news from IFC? Like us on Facebook and follow us on Twitter @ifctv.
"Out There" premieres on IFC on Friday, February 22 at 10:30/9:30c