"Warm Bodies" review: A zombie story with heart… and a lot of brains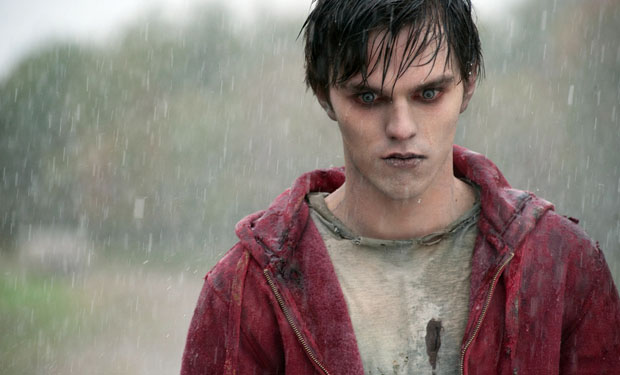 Posted by Rick Marshall on
Just when you thought the zombie genre had shambled off into the sunset bereft of any fresh ideas, a movie like "Warm Bodies" comes along and makes the undead seem, well… very much alive.
Written and directed by Jonathan Levine ("50/50") and based on Isaac Marion's novel of the same name, "Warm Bodies" unfolds in the aftermath of a zombie apocalypse that has made humans the food of choice for hungry zombies and the savage, skeletal "bonies" that some of the undead turn into after a certain point in time. However, unlike the zombies portrayed in most media, some of the undead in this story still show signs of life, stringing together thoughts and even communicating with the occasional grunt or single-syllable word. "R" is one such zombie, and when he falls in love with a human girl that he saves from some of his fellow zombies, their relationship ignites a spark that not only changes him, but also has a cascading effect on both zombies and humans alike.
While it's easy to dismiss the concept of "Warm Bodies" as just another young-adult supernatural romance that exchanges vampires and werewolves for flesh-hungry zombies, Levine's film shares more in common with the modern, clever takes on the genre like "Shaun of the Dead" than it shares with the "Twilight" franchise.
British actor Nicholas Hoult ("X-Men: First Class") carries much of the film on his slumped shoulders as R, complementing a smart, funny inner monologue with physical acting that just might make him the funniest zombie since Tarman in "Return of the Living Dead." Emoting shouldn't be easy when your character is a trudging, near-mindless corpse, but Hoult certainly makes it seem so, adding just the right inclination of an eyebrow or tilt of his chin to give R some genuine depth. The subtle exaggeration of these small movements as the story progresses makes R's evolution even more believable, and provides a nice showcase for Hoult's talents.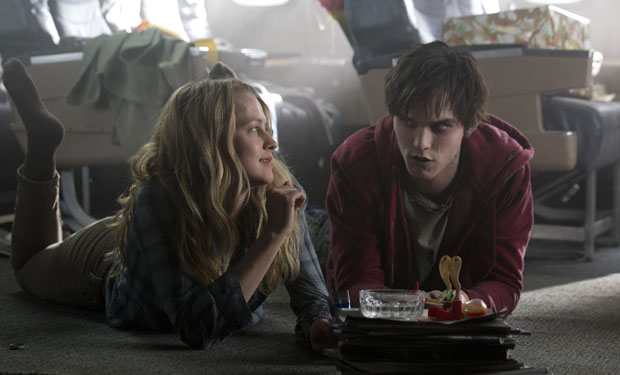 Playing opposite Hoult, Teresa Palmer ("I Am Number Four") puts in a good, safe performance as Julie, the object of R's affections and the daughter of General Grigio (John Malkovich), the leader of a nearby, militarized human sanctuary. Although her character never manages to steal the spotlight away from R, this says more about Hoult's performance and the focus of the film than anything she brings to the role. The same goes for Malkovich, who plays more of a cameo than anything even remotely as memorable as the characters he's played in the past.
Still, "Hot Tub Time Machine" actor Rob Corddry does manage to stand out as R's zombie pal "M," and the pair have a nice chemistry that translates into some of the film's funniest moments. Like Hoult, Corddry does a lot with every scene he's in, right down to the smallest twitch of a shoulder or well-timed grunt, and makes a strong case for M as the character most deserving of his own spin-off film.
In fact, that may be the most impressive achievement in Levine's adaptation of Marion's novel: the most interesting, compelling characters in the story are zombies.
Even with all of the story's allusions to "Romeo & Juliet" (from star-crossed lovers R and Julie, to R's best friend M serving as the Mercutio to R's Romeo), "Warm Bodies" never feels like a traditional romance dressed up in a post-apocalyptic theme. The reverse feels more appropriate, with the costume of a classic romance disguising a very smart mash-up of horror and comedy that somehow manages to bridge the divide between two very different audiences and — maybe even more importantly — stand out in an increasingly overcrowded genre.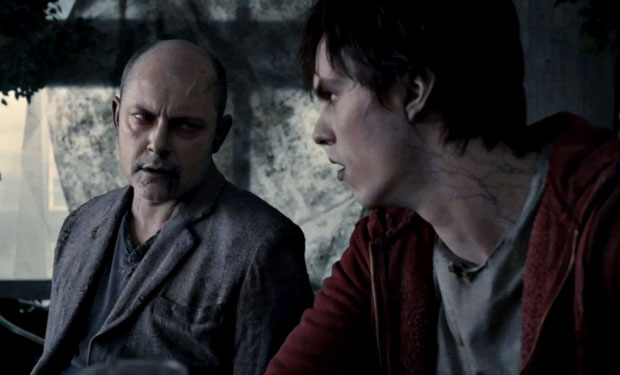 "Warm Bodies" hits theaters Friday, February 1.