Tim Grierson on the Return of Arnold Schwarzenegger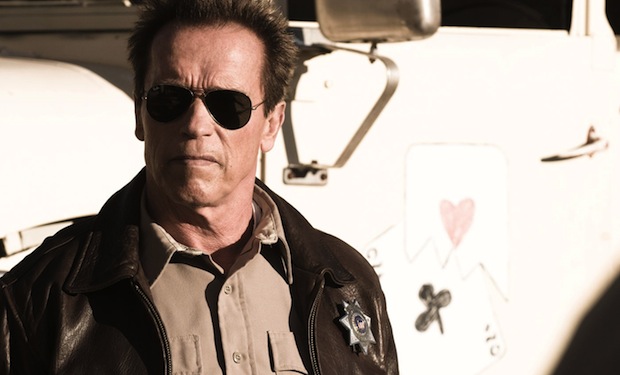 Posted by Tim Grierson on
The Arnold Schwarzenegger comeback begins in earnest on Friday. That's when his new movie, "The Last Stand," opens. It'll be the first film in 10 years in which he's the primary star and leading man. Even when he showed up in the "Expendables" movies or had his likeness used in "Terminator Salvation," he was merely a periphery player. If people pay money to see "The Last Stand," it'll be because of Schwarzenegger (with all due respect to fans of Johnny Knoxville and Luis Guzman, of course). It's been a long time since that was the case.
Schwarzenegger's comeback is unique among Hollywood stars because he's not coming back in the usual way. He hasn't recently recovered from addiction. He isn't trying to rebuild his image after a tabloid scandal. He didn't make himself a pariah by spewing scathingly inflammatory and offensive comments about minority groups or women. No, he's just been busy serving as the governor of California. (Although, yes, he has had to apologize for some of his past behavior. And he's no stranger to the tabloids. The man is certainly not a saint.) He's not coming back in a kinder, gentler, changed form. He wants to be the same Arnold, albeit (as his character jokes in the "Last Stand" commercials) a slightly older model.
Before Schwarzenegger took office thanks to the fall 2003 recall election of then-Governor Gray Davis, he remained a popular star — a faded one, but a star nonetheless. Before that summer's "Terminator 3: Rise of the Machines" — the year's eighth-biggest hit — he had been in a series of box-office misfires ("Collateral Damage," "The 6th Day," "End of Days"), and even the $100-million hit "Batman & Robin" was seen as an underperformer, not to mention a campy fiasco. It would be incredibly simplistic and glib to suggest that Schwarzenegger's move into politics was a savvy career transition. (Becoming the governor of the country's most populous state brings with it far more stress, challenges and real-world consequences than anything faced in Hollywood.) But from a movie-business perspective, it allowed him to potentially bypass the commercial-wilderness years that eventually befall all action stars. No lame reality show, no halfhearted stab at showcasing his "serious side." He just left.
But you got the sense that he never fully closed that door: His cameo in 2010's "The Expendables," which opened five months before he would leave office, proved that. And then when he was free of the governorship in early 2011, he made it be known that he would immediately start considering movie projects, including proposed remakes of "Predator" or "The Running Man." At 63 and after seven years as governor, he wasn't going to slow down and enjoy life. He clearly wanted back in to Hollywood.
Of course, that plan got derailed when it was revealed that he fathered a child with his family's maid a decade earlier. But that derailment was brief: Soon, he was signed up for "The Last Stand," the English-language debut from South Korean filmmaker Kim Jee-woon, who previously had made "I Saw the Devil" and "A Tale of Two Sisters." He also came aboard "The Expendables 2" for a larger role than in the original. And "The Last Stand" isn't his only upcoming film: He's going to be in "The Tomb" with his "Expendables" costar Sylvester Stallone in the fall; and "Ten," with Sam Worthington, is set for an early 2014 release. He seems incredibly determined to make up for lost time.
Clearly, Schwarzenegger is hoping to hit the reset button with his fans after many years away. It's difficult to find an analogous Hollywood star to compare to his situation, so it might be more appropriate to look to the music world. In the last few years, several rock bands who were big in the late 1980s and early '90s — Jane's Addiction, the Pixies, Soundgarden, Stone Temple Pilots — have reunited, finding success with concertgoers who are happy to revel in a little nostalgia. It's worth pointing out that none of those bands have delivered much in the way of compelling new material — they're just recycling the past. It seems to be the same for Arnold: His comeback isn't some kind of redemption story like so many of his peers'. He just wants back into the limelight, offering the same bill of goods as before.
As the "Expendables" films have proved, there's definitely an audience for bygone action heroes who are willing to crack skulls and blow stuff up like in the old days. So why not Schwarzenegger? The early reviews of "The Last Stand" haven't been so good, and it seems unlikely that this movie on its own will catapult Arnold back into the ranks of the A-list. But considering how unusual his comeback scenario is, it would also be foolish to predict just how it's going to play out.

You can follow Tim Grierson on Twitter.