This week in comedy podcasts: Comedy Bang! Bang! and WTF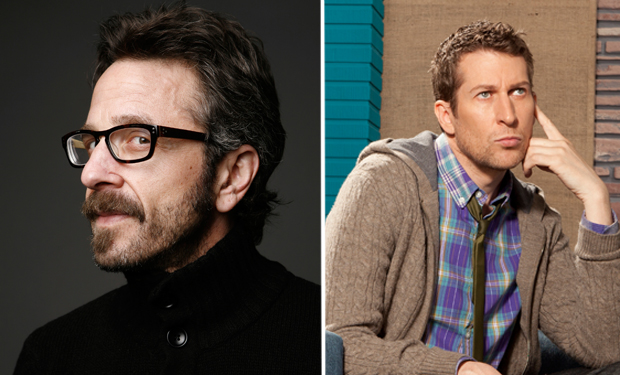 Posted by Melissa Locker on
Here are three things we know: We like comedy. We like podcasts. And we really like comedy podcasts when they are made by our friends. We're doing what all reasonable with a blog would do with that knowledge and starting a column to highlight what our funny friends are doing each week on their always awesome and slightly off podcasts.
Over on Comedy Bang! Bang! the podcast that spawned a revolution television show, Scott Aukerman talked to Tim Heidecker about his new venture as Vice President of Alternative Merchandising for The Who. Then, Paul Rust helped Scott demystify some American myths and introduced some brand new New No-Nos. Bill Cosby-Bukowski also drops by the podcast. If that's not enough to encourage you to download the podcast, Tim becomes George Burns during a game of Would You Rather? You can download the podcast here (or just subscribe already). In the brave new world of Earwolf's video podcasting, you can watch the full episode right here, right now, if you are into that sort of thing. (If you wear headphones your boss will never know!)
Over on Marc Maron's WTF podcast, on Monday Marc talked to Lucinda Williams about her raw, honest and emotional music. It's no surprise she brings the same qualities to a garage chat with Marc. Lucinda explains how she confronts the darker corners of her life through songs and Marc tries to figure out why Lucinda's music makes him cry. Then on the Thursday edition, Marc talked to comedian Gary Gulman about athletic Semitism, performing in Boston, the empowering camaraderie of comics, the soul-crushing discouragement of development deals and the power of comedy to soothe heartbreak. You can download it here or on iTunes.
As you may have heard, we are taking Marc's life and turning it into a television show. "Maron" explores a fictionalized version of Marc's life, his relationships, and his career, including his podcast. It's debuting later this year.
Watch and listen (mostly listen) as Marc Maron talks to Lucinda Williams about the late great Robert Johnson:
Want the latest news from Comedy Bang! Bang!? Like them on Facebook and follow them on Twitter@comedybangbang and use the hashtag #cbbtv.
"Maron" premieres on IFC in 2013