"Terminator 5" gains "Shutter Island" and "Drive Angry" writers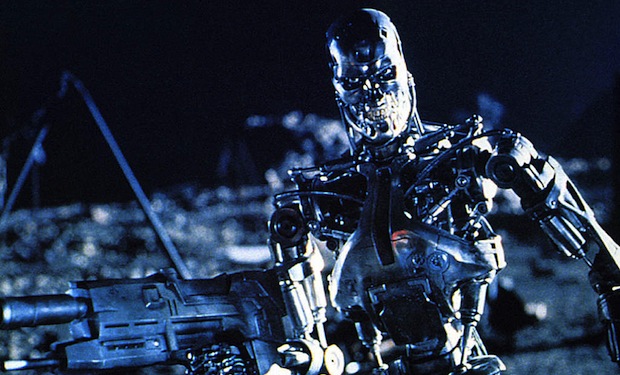 Posted by Terri Schwartz on
A fifth "Terminator" film is happening, and Arnold Schwarzenegger is on board. The project has now found itself some new writers: Patrick Lussier and Laeta Kalogridis
Deadline has the news, though no plot information or concepts have been released yet. Our guess is that this movie will focus on the Schwarzenegger Terminator films and ignore projects like "Terminator Salvation" and "The Sarah Connor Chronicles."
Kalogridis and Lussier are interesting choices for this film. Kalogridis scripted "Shutter Island" and "Alexander" and did some work on "Avatar," while Lussier penned "My Bloody Valentine" and "Drive Angry." Together, those movies pretty much paint the picture of what we expect from "Terminator 5": Something campy and self-aware while also being grounded in some form of reality.
To be clear, this new "Terminator" movie is not the one that Justin Lin had long been planning. Instead, Megan Ellison — the producer behind "Zero Dark Thirty" — landed the rights to the project and plans to start the sequel talk from scratch. This movie is said to start a new series of "Terminator" films.
This isn't the only previously successful franchise Schwarzenegger is returning to. He is also set to star in "The Legend of Conan" and "Triplets," sequels to "Conan the Barbarian" and "Twins."
Do you think a "Terminator 5" is a good idea? Tell us in the comments section below or on Facebook and Twitter.