"Star Trek Into Darkness" debuts a whole bunch of new images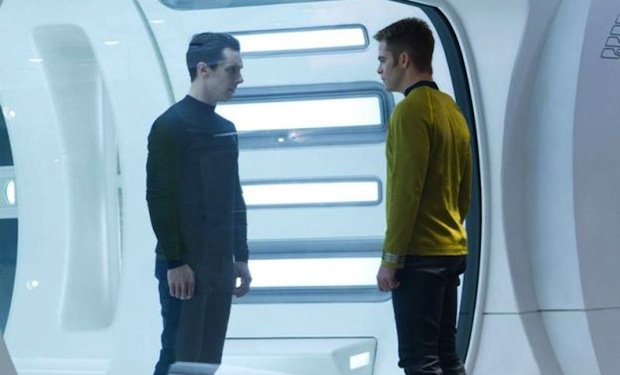 Posted by Terri Schwartz on
Paramount Pictures has debuted 11 new pictures from "Star Trek Into Darkness," and they all tease the same sort of danger that we've seen in the trailers for this film. There are enough images of guns being drawn and Benedict Cumberbatch looking like a fantastic villain to promise us that "Star Trek Into Darkness" will be a fitting sequel to J.J. Abrams' first venture into the "Star Trek" universe.
You can see all of the high-res images over at ComingSoon.net. What we don't see much of in these images are shots of Kirk and Spock together. Instead, Spock is often seen fighting his own battles while Kirk is with the new characters being played by Cumberbatch and Alice Eve. That's not to say the former rivals won't get some screentime together, though.
"Kirk really earns his leadership. Spock really earns an understanding of friendship," Zachary Quinto told Extra of his relationship with Chris Pine's character in this movie.
"Star Trek Into Darkness" is directed by J.J. Abrams and stars Pine, Zachary Quinto, Zoe Saldana, Simon Pegg, Anton Yelchin, Karl Urban, John Cho and Bruce Greenwood. Newcomers Alice Eve and Benedict Cumberbatch have been added in undisclosed roles. The film is slated to hit theaters on May 17 in IMAX and 3D. It's been revealed that over 40 minutes of "Star Trek Into Darkness" will be shown in IMAX.
What are you most looking forward to about "Star Trek Into Darkness"? Tell us in the comments section below or on Facebook and Twitter.