Rian Johnson talks "Looper", Bruce Willis' voiceover, and "Breaking Bad"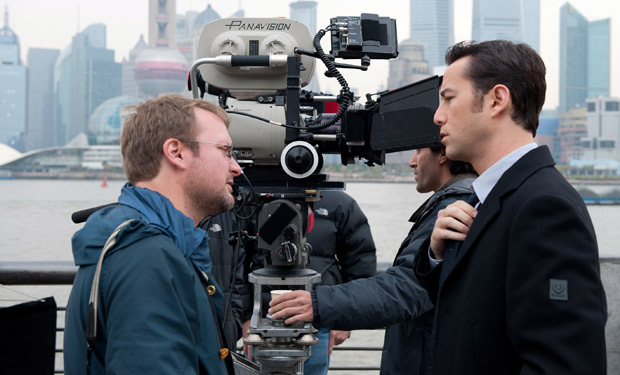 Posted by Scott Neumyer on
Rian Johnson may have been a critical darling with the release of his previous films, "Brick" and "The Brothers Bloom", but with the Oscar buzz surrounding his "Looper" screenplay and the critical success of the film, the young director is about to become one of Hollywood's hottest commodities. Starring Joseph Gordon-Levitt, Bruce Willis, and Emily Blunt, "Looper" is a poignant and heartfelt story wrapped up in a time-travel, science-fiction universe. It's also one of the very best films of 2012.
Hot on the heels of the "Looper" Blu-ray and DVD release, Johnson sat down with IFC.com recently to chat about his most personal film, working with Bruce Willis, and the possibility of a return to "Breaking Bad".
IFC: You've had critical success before with your first two films ("Brick" and "The Brothers Bloom"), but nothing on level of recognition and attention that "Looper" has received. Did you ever expect that type of reaction to the film? Did it feel any different making this one?
RIAN JOHNSON: That's a good question. No, essentially you never expect anything. By the end of the process, you are just hoping that you're not run out of town shamed on a rail, I guess. You go from these high hopes when you're writing to just a desperate want of not making a complete fool of yourself by the end of it. So, no, there's definitely never the expectation of "wow, this one is really going to get them." You're just always hoping that it works. In terms of it feeling different, it did, but I think maybe that's the case with every new thing that you do. Hopefully with each thing that you do you're learning something, you're growing, and you're pushing yourself a little harder in some way or another. So I think you'd be in real trouble if each new thing that you create didn't feel like "Oh, wow. I feel like I'm doing something a little different this time."
IFC: Of all your films so far, "Looper" feels the most personal. Is that the case? Does this one feel more personal to you than the others?
JOHNSON: I appreciate that. I think that's a good sign. Again, yes, but with a qualified answer because it feels the most personal to me because it's the most immediate to what's on my mind right now and to my experience of what I'm going through. It's the last thing I wrote. When I wrote "The Brothers Bloom," that was where I was at that point, and the same thing for "Brick." It's really gratifying for me, though, to hear you say that because I think "Looper" has the veneer of an action movie, and of a time-travel movie, and there are a lot of things which one could very easily see and assume that it isn't a very personal film. And, for me, it very definitely is so it makes me feel very good to hear that it struck you that way.
IFC: You're talked previously about this "loop" of violence that manifests violence and how "Looper" was your way of addressing those issues. Other writers and directors might have just made a straight drama about this, but you chose to wrap it in this time-travel, sci-fi picture. Is that your way of dealing with heavy topics like that – to make it something interesting and accessible in other ways as well?
JOHNSON: Yeah, it is for me. You never want to make a "message movie," but you always want to be talking about something that you care about, and talking about something that hopefully people can dig into and really relate to and that really matters. The thing about the movies that I grew up watching – the ones that really stick with me through my life – are movies that work on two different levels at the same time. They hit me on the gut level that a good genre picture can hit you on, but then have a lingering something that you keep chewing on after the credits roll. To me, that's an incredibly powerful thing. I know, just in relation to sci-fi, that it's something that sci-fi is specifically good at. Think about Ray Bradbury's stories or Philip K. Dick. They're writers that use these outlandish sci-fi concepts not to talk about, but to dramatize stuff that's very vital and very human. To me, there's nothing more powerful than that.
IFC: After all the "beef" you've had with Jason Reitman, how did it feel to read his essay in Entertainment Weekly?
JOHNSON: [Laughs] I guess I should make it completely clear that there was never any real beef with Jason. [Laughs] It's funny that, because of that silly thing that I wrote, it's led to my meeting Jason a couple of times and he's really a great guy. That thing that he wrote just kind of blew my mind. I told Jason, and this is really true, that all this awards stuff is easy to get caught up in all the drama, but what it really just boils down to is your peers saying "good job" and appreciating your work, which just feels really good. In that way, reading the thing that Jason wrote felt like winning an Oscar to me. That was a really special thing.
IFC: Did you have any idea he was going to do that?
JOHNSON: No, no. He just emailed me out of the blue and said, "Hey, I'm doing this." [Laughs] I was like, "Holy shit." [Laughs]
IFC: Bruce Willis has said that "Looper" is probably his favorite film that he's been in. We've all heard the "horror" stories from people like Kevin Smith about how hard Willis is to work with. How was it, for you, working with him? Were you nervous about that before you started filming?
JOHNSON: Well, you know, Bruce was definitely the biggest "movie star" that I've ever worked with. He's so iconic. And, so, you're always nervous when you're showing up to work with one of your heroes, but he was a dream. He showed up ready to work. He was completely dedicated to the project. Besides just giving what I think is a tremendous performance, he also was so ready to dive into the darker elements of the script. He had no reservations at all and no ego. He had no interest in protecting any sort of movie star persona on the screen. He was just really down with digging into what this character needed to be. I had a fantastic time working with him. It was kind of like what your fantasy about working with Bruce Willis would be like. He was super cool.
IFC: Tell me how you approached him with this script. You basically have this film that says "We're going to use makeup to turn Joseph into a younger version of you and he's going to do this awesome impression of you as a younger guy." That's got to be a nerve-wracking conversation.
JOHNSON: It's funny now that you say that. I'm thinking of our first meeting and we talked about the story and that was our first big connection point, but I don't think we talked about that element of it. It was more about how we were going to approach the storytelling elements of it. In some way, it was probably a little bit of a surprise for Bruce when he showed up. He did hang out with Joe a few times though and let Joe watch him talk. He actually recorded all of Joe's voiceover lines and sent the recordings to Joe so he could study how he said them.
IFC: That's amazing.
JOHNSON: Yeah, it was really cool of him. And so, Joe has a recording somewhere on an iPod of Bruce saying those opening voiceover lines.
IFC: Could you imagine if he gave that to you to put online as an alternate audio track?
JOHNSON: That would be pretty incredible.
IFC: You've talked about your connection with Joseph plenty of times so I want to ask about Pierce. He's amazing. Where did you find this kid and how quickly did you know he was just right for this part?
JOHNSON: We found him in Atlanta and the instant I saw the first words out of his mouth, on the first video audition that he did, I kind of leaned forward and said, "Oh." Then when I met him and saw him work, and saw him do what he does, I was like, "Oh my God. We got really, really lucky here." He's an actor. If there's something that feels different or amazing about his performance, I would attribute it to the fact that he's not just saying the words in a practiced way. He's not reciting them in a way that his mom has told him to recite them. He understands what the words mean and he's saying them to the person who's sitting across the table from him. He's acting. As much as Emily and Joe and Bruce or anybody is acting, Pierce is just a great actor and he was five years old when we shot the movie. That combination is not something you see very often. We got really lucky.
People like to think that you have to trick kids into giving a performance, but there are kids out there that can act as well (and sometimes better) than adults. I feel like I've been lucky to work with some really good kid actors.
IFC: "Looper" has this kind of lo-tech, hi-tech approach to the future element, which I really love. It reminds me of films like "Brazil" and "Dark City" in a way. Did you watch any films, or show any films to your crew, before shooting as inspiration or reference for your film?
JOHNSON: No, not really. Just because I was very conscious of wanting the world to feel organic and not wanting it to feel like a pastiche of other sci-fi movies, we kind of took a different approach. And I love those films that you mentioned so much that I knew there was a danger in that even if we didn't explicitly reference them. I wanted all the design decisions to be coming from what makes sense for the story and what makes sense for the script and the world. I wanted to intentionally avert our eyes from all the movies that we love, knowing that they would seep in there anyway. I think if you watch the movie, you can see echoes of "Blade Runner" and "Children of Men", but I didn't want to explicitly look to them. I didn't want to overdue that element.
IFC: Is there any chance we'll get to see you direct one of the final "Breaking Bad" episodes during the show's upcoming, final run?
JOHNSON: [Laughs] Oh… [Laughs] Eh, I, um… I don't know, man. We'll see. [Laughs]
IFC: [Laughs] I'll take that as a good sign that we may see you back! [Laughs] Other than that, do you have anything else coming up that fans can look forward to?
JOHNSON: No, I'm writing my next script right now. I'm writing another original and I'm a slow writer so I apologize that it's taken a while, but that's what I'm doing right now. Digging into the next one and hopefully I'll get it done sooner rather than later and we'll be off to the races.
Rian Johnson's "Looper" is available on Blu-ray and DVD now.